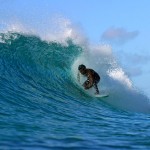 Phew, that was close.
Board Paradise is open for business today after a sign was posted on its door Friday from Thalhimer warning the tenant to not change the locks or enter the premises.
The Thalhimer agent in charge, Michael Shaia, told BizSense that the surfing and snowboard shop had fallen behind on rent but that they had paid it off.
Shaia did not say how much the proprietor was behind, only that it was enough to take action.
David Larter is a BizSense reporter. Please send news tips to [email protected]