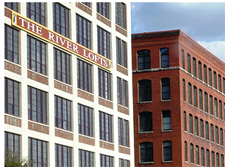 Apartment vacancy is at a 22-year high in the U.S., and Richmond is no exception.
One local landlord with rental houses and apartments in the Fan and West End said his tenants are haggling more over price than in the past.
Real estate researcher Reis Inc. reported last week that the national apartment vacancy rate reached 7.5 percent in the second quarter; the rate for Richmond was higher at 8.1 percent.
That's up 2.3 percent from 12 months ago.
But Patrick McCloud, president of the Central Virginia Apartment Association, said despite the record high vacancy levels Richmond is holding up well and that the rental market is showing signs of improvement.
"All in all, people I talk to in the apartment market are still maintaining—not doing great, but very few people are doing terrible," said McCloud.
McCloud's own survey of 63 metro area landlords produced an occupancy rate of 91.4 percent, or 8.6 percent vacancy.
He said the apartment industry is become more aggressive in filling vacancies. Two-thirds of the landlords in the survey said they were giving some sort of rent concessions to lure new tenants.
"What I am seeing is that your strategies vary where you are in your occupancy issues. When your property is down in the 80s (percent occupied), and not many are, you seeing something typically above one month's free rent," said McCloud.
"As you start to creep up to 94 to 95 percent you see specials get back to half a month, no deposit," said McCloud, "If you are at 100 percent your rent is too low."
He said a healthy occupancy rate for the metro area is close to 95 percent.
Brian White, president of Main Street Realty, said occupancy in his buildings is about 95 percent. His company has apartments in Shockoe Bottom and its leasing is driven mostly by VCU students.
"June and July have been very strong, maybe it's a blip or a sign at least the apartment market has bounded out," said White.
White said that this spring, typically a busy time for leasing, was definitely slower than 2008.
He said leasing has been strong enough where his company did not have to offer too many concessions, and have started scaling most of them back.
"We were having to deal with a lot of our competitors offering some pretty tough concession to compete with," said White, "We were never willing to match what our competitors were doing, it seemed like giving money way."
Main Street Realty recently began leasing apartments at the Richmond Cold Storage lofts about a month ago (You can read more about that project here). So far they have leased 15 out of 37 apartments, he said.
"Given what it looks like now, that is great," White said noting that there was still significant construction activity at the site. The project received its first certificate of occupancy last week.
Yogi Singh, a Realtor at Shockoe Properties, also noted strength in the downtown area.
"The downtown Shockoe Slip is  not seeing as many vacancies as you are seeing in the surrounding counties," said Singh.
Singh said while he has noted fewer appointments and phone calls about properties than last summer, he isn't particular worried.
"Students are still coming to school in August, and residents are still moving in," said Singh.
McCloud, from the apartment association, agrees that the city remains better positioned than the suburban areas because of the growing populations of VCU students, employees, and alumni.
He said apartments that are part of multi-phase mixed use projects in the suburbs are facing problems because of the economy.
"If you have a situation where the commercial has stalled, if you have residential you face difficult leasing because you still may have construction on site for the next two years," McCloud said, "Mixed use when successful is very successful, but when it does not get launched off correctly you can have problems for several years."
If occupancy continues to languish, it could cause problems for developers who built an apartment project with the intention of selling it. They may have taken out a short term loan expecting to sell the property for a profit but get stuck with refinancing it when they can't find a buyer, McCloud said.
"The problem Richmond will have to watch for is what happens two or three years from now, they came on anticipating a certain amount of rent growth that they won't get for three or four years from now."
Previously on Richmond BizSense: Is Richmond really the worst rental market in the country.
Al Harris covers real estate for BizSense. Please send news tips to [email protected]