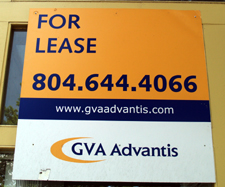 The man who bought GVA Advantis last year didn't foresee such a severe recession — one that has hammered the sort of real estate transactions that drive profits at commercial brokerages.
With surprisingly frank quotes in a great Washington Business Journal article, Jeff Neal said that transaction volume is down from 60 to 90 percent from the market peak in 2006 and 2007. It's a must-read for anyone in commercial real estate.
GVA has an office in Richmond with around 24 employees. The company is based in D.C.
"With fewer tenants looking to move — much less expand — the lease deals that did happen were for less space, shorter terms, lower rents and smaller commission rates, Neal said. "A typical 15,000-square-foot client, rather than signing a new 10-year lease to expand to 20,000 square feet, would instead sign a two-year renewal on its current lease, oftentimes handing back unused space."
Said Neal, "In 2007, we'd get $100,000 from that deal, and we'd use it to pay secretaries, keep the lights on, hold the holiday party."
Last week GVA closed branches in Newport News and Northern Virginia. A handful of brokers from the Norfolk office left for greener pastures. But in Richmond, so far, all the brokers are staying put.