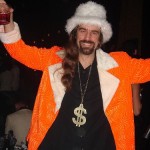 Virginians have deep pockets, according to Phoenix Marketing International.
That's because in a recent survey the firm listed Virginia as the No. 5 state in the nation for number of millionaires. Virginia has 3,034,189 households; of those, 166,596 have more than $1 million in liquid assets, not counting those with retirement funds that put them over the $1 million line, the company said.
That's a total of 5.51 percent of the households. Hawaii tops the list with 6.41 percent of its households.
But even though the commonwealth jumped from the sixth to the fifth spot, the number of millionaires in the state dropped since last year. In 2008, 5.99 percent of Virginia's households had millionaires.
The drop in millionaires nationwide has been fodder for comedians such as Stephen Colbert, who downgraded his Colbert Platinum segment, for viewers with a net worth above $1 million, to Colbert Aluminum.
Colbert downgrades:
Watch the original platinum version here.