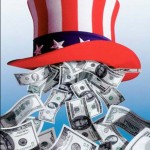 The U.S. Recovery Act has saved or created 160 jobs in Richmond so far, according to the city's newly launched stimulus tracker.
The new website breaks down the $17 million Richmond received in stimulus grants project by project, with an estimate of jobs secured by each.
For example, here is a description for a project in Church Hill to develop affordable housing, for which the city received $500,000 to fund infrastructure improvements:
Temporary jobs will be created/sustained in the construction industry during the build out, as well as in the engineering and architecture trades that work on the development. All of these industries have suffered as a result of the real estate downturn. Permanent jobs will be created in property management and maintenance as well as the essential services needed for a multifamily development, such as landscaping, janitorial functions, trash collection, and a host of other building service functions. The total cost of infrastructure improvements is expected to exceed $800,000, resulting in an estimated 12 jobs created or retained.
Community development grants totaling more than $1.3 million are estimated to save or create a total of 106 jobs, mostly in the construction field. Those projects will help fund affordable housing developments and home repairs for low income elderly residents.
The city also received $6.2 million from Environmental Protection Agency for sewer improvements, funding a total of three projects. Combined they will require 44 full and part time construction workers for 10 to 12 months. The projects will provide additional short-term jobs to quarry truck drivers, steel manufacturers, and concrete suppliers.
The numbers are still being crunched as to how many jobs will be created by the remaining projects that include: home weatherization, homelessness prevention, and improvements to German School Road.
The city stimulus tracker does not include funds awarded to other agencies or groups within the city including Richmond Public Schools, Port of Richmond, and the Richmond Redevelopment and Housing Authority.
Keep track of city stimulus projects here.