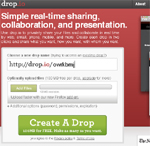 Memo to the company-wide intranet: Better pack up and head to Florida.
Businesses used to have to pay dearly for a system that would let a worker at one computer save a story on a company-wide network that another worker could pull up. It was just a matter of time before the Web came after this pricey software.
And my, how it has.
Like almost every web startup, one of the best in breed comes complete with a too-cool-for-school name: drop.io.
Drop.io works a lot like Google Docs but with more features and better usability. And it's not just for documents. I tested it for a few days and found that it makes tasks like uploading a variety of files as easy as saving on your computer's hard drive. And all the files opened without a glitch on my and my editor's computers.
One downfall: If you want to edit a document, you have to download the document and then upload it again with changes. Google Docs allow you to edit in close to real time.
Drop.io first kicks you private space on their URL where you can upload documents, photos, videos and music for you to share with whomever you'd like. For business owners, this gives you a centralized location where you could upload training presentations for your employees, detailed instructions for your underlings while you're away on vacation and post pictures of the company picnic. (In that sense, you could say it even adds in elements of social networking.)
If you are collaborating on a document with co-workers, you share your drop URL with whomever you need. You email them the link and then they open it and upload your draft. This may eliminate the need for those email chains.
Then you can download the finished product, print it out and you are off to the board meeting to claim credit for all the work. Plus you could use Drop.io as a backup to a flash drive, available to you whenever you have Internet access.
Drop is quick to set up and worth playing with if you have a down minute.
Within two clicks you have a private URL and are ready to start uploading files. If you check out my drop, you can see some of the goodies I've left for loyal tech review readers. You'll find a few pictures, including one of my desk and another one of BizSense's tomato plant. Also there are a few of my favorite '80s hits streaming on there and some of my favorite stories that never made the website (my favorite is the article about Snus). See my drop here.
If you've checked out my drop, then you have some idea what the site is about. If you clicked on one of my song files, you saw that the song played right from the browser. If you clicked on one of my blooper stories, you read it straight from a browser-based reader. You also may have noticed that by simply clicking on a webpage you accessed my personal files. I made my drop public and there is no password protection but you could put them behind a password wall.
But this raises one concern about using drop.io. The site is not searchable, so therefore, the only people who can access your site are the people who know the URL. But with all the tech-nerds out there, I'm not convinced a geeky eighth-grader couldn't find your files without too much trouble.
That's why there a few other beefy security features such as password protection and a special admin login that allows you to control who can make changes to your drop. But even those features are only so secure. So if you are using drop.io for business, probably not smart to put out the full business plan or your scheme for world domination up there.
The other downside of drop.io is the storage space limitations. The basic free version offers 100MB of space, equal to about 25 to 30 mp3 files. The premium features are a little pricey. For 20 drops (unique URLs) at 10GB of space, or the size of a mid-range video iPod, it will run you $20 a month. The larger 30GB plan, which is the size of my iPod, it will run a $50 per month. Take into account that HD video on the web takes up about a gigabyte per minute of run time. That would be $600 a year for 50 30-GB drops.
One other drag: The maximum size of one file is only 2GB. That's not enough space for big video files. But still, Drop.io is a good way to share a few documents or some slides with co-workers, or collaborate on a draft.
If you are going to put all your business in the cloud, as techies call it, then there may be cheaper options out there in the online data back-up world.
And if you don't end up using Drop.io, at least you got to hear some great '80s music.
David Larter covers technology for [email protected]