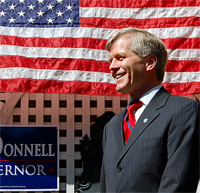 Republican Bob McDonnell is still raising more cash from the Richmond business community, but Democratic candidate Sen. Creigh Deeds has been busy playing catch-up.
Deeds received more than $130,000 from local companies and trade associations in second-quarter fundraising, according the Virginia Public Access Project. Large donations from Verizon ($50,000) and Altria ($25,000) came rolling in after Deeds won the primary.
Deeds also received support from LeClairRyan ($13,500), Troutman Sanders ($2,000), Universal Corporation ($2,500), and Allen & Allen ($10,000).
Deeds received another $5,000 from Dominion, for a total of $22,500 since the campaign started.
Including donations from 2008 and the first quarter, that brings Deeds's fundraising total from Richmond business to $173,720.
But McDonnell remained the leader, with more than $162,000 raised from Richmond businesses and associations in the second quarter. McDonnell has a big head start, having raised $441,604 from Richmond business since the beginning of the campaign.
New donations include $25,000 from Altria, $15,000 from LeClair Ryan,
$15,000 from Anthem, $13,163 from Williams Mullen,  $10,000 from MeadwestVaco, $10,000 from the Pearson Companies and $5,000 from Brinks Co.
McDonnell received $50,000 from Verizon in the first quarter and has received $72,121 from Dominion since the beginning of the campaign.
McDonnell also appears to be getting more individual support from local business executives, including the likes of John A. Luke Jr., Thomas Chewning, Robert Sledd, Rick Sharp, Thomas Farrell and Bruce Gottwald Jr.
Deeds won over two prominent business leaders: Jim Ukrop and G. Gilmer Minor III each gave $10,000 to his campaign.
McDonnell has raised more money overall during the campaign but had the advantage of not having to run in a primary. As of July 15, McDonnell has raised $10.67 million to Deeds's $6.2 million.
So what do all these companies expect in return for their investment?
University of Richmond political science professor Dan Palazzolo said corporate donations are about securing access to policymakers.
"They want to make their case on issues when they come up. [It's] not a bad strategy for a business to give to candidates on both sides," Palazzolo said.
Verizon, Dominion and Altria all donated large sums to both campaigns.
On the other hand, some businesses might give to single candidate if they have a vested interested in them winning.
"It could be the business already agrees," said Palazzolo. "The candidate says, 'We agree and I'd like your support.'"
Campaign donations are a way for companies to participate in the political system, Palazzolo said.
Palazzolo wasn't surprised that McDonnell is raking in more from businesses.
"Traditionally, Republicans tends to be a little more in line with business interests, but it depends on how competitive the campaign is and what the Democratic position is," Palazzolo said. "Some have done well among businesses."
Businesses are most concerned about transportation, energy and education, Palazzolo said. He also said the federal card check issue might seep into this campaign.
Al Harris covers government for BizSense. Please send news tips to [email protected]