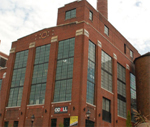 This month, BizSense goes behind the scenes of one of the most ambitious adaptive reuse projects in town: Odell Associates new office space in the Lucky Strike power plant.
Built in 1930 at the end of Tobacco Row, the coal power plant heated water into steam, which would spin turbines that created electricity.
Now the architecture firm has a 15,000-square-foot office that's mostly open except for an executive suite.
Odell occupied the space in January. The firm employs 100 with 40 employees based in Richmond.