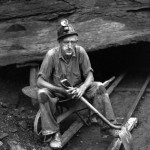 Richmond-based Massey Energy has been ordered by the government to make safety changes after a coal miner was killed in October in a Massey mine.
The Federal Mine Safety and Health administration ordered Massey to add more clearance between the rail cars and the walls of the mine, and to also improve communications between railcar drivers and miners.
From the AP article:
MSHA says in a report that 32-year-old apprentice miner Steven Cain was crushed between a railcar and a wall at Massey's Justice No. 1 underground mine in Boone County.
Massey will also have to ensure that all miners are clear from the rails before moving machinery.
Massey did not have a comment by press time, nor has Massey CEO Don Blankenship had any reactions on his Twitter.
Recently Blankenship has aimed his tweets at green energy and the Cap and Trade bill.
They call wind and solar "Green Energy" because it takes a lot of your green money to provide it.
The "Cap & Trade" bill should be called the "High Electric Bill" bill. Who would sponsor that?
Is Cap & Trade "environmental law"? Anti-American worker? Tax law? Scam? Whatever it is it will not help environment in any manner.
David Larter is a BizSense Reporter. Please send news tips to [email protected]