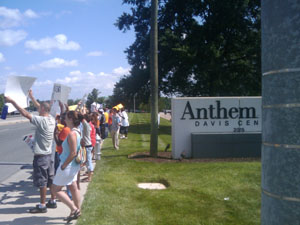 Joe Szakos walked into Anthem headquarters in Richmond on Friday demanding a refund.
A few minutes later, he walked out in police custody.
Szakos is executive director of the Virginia Organizing Project, a community organizing group. He and several other board members entered the building seeking a meeting with executives.
The organization wants a refund for its health-care premiums, because Anthem uses its profits to lobby Congress against health-care reform.
The nonprofit VOP has 36 employees that receive benefits through Anthem. In a news release, the group said that its premium has increased 14.1 percent this year and that it pays more than $25,000 dollars a month.
"We received an e-mail from Anthem recently imploring its customers to call their members of Congress and ask them to oppose the public health insurance option. Not only was this letter ironic given our organization's support of the public health insurance option, but it was really disturbing because our premiums are going towards paying corporate lobbyists," said Szakos in a statement.
Scott Golden, a spokesman for Anthem, said security guards were instructed to lock the doors to prevent Szakos from going beyond the vestibule. Golden said the decision to lock the doors was made for the protection of the associates and the customer data inside.
"We understand VOP is a valued customer of ours, and if they have an issue with the premiums they are paying or how we are spending them, all they need to do is ask us for an appointment," said Golden. "We would be more than happy to explain that to him."
Golden said Anthem's parent company, WellPoint, spends less than 1 percent of its profits on lobbying.
"Government-run plans do not compete on a level playing field with private plans like Anthem. We feel a government-based option will increase premiums and facilitate lower quality health-care," said Golden.
While Szakos attempted to get inside, about 50 protesters marched up and down Staples Mill Road holding signs and shouting chants such as: "Whose health care?  Our health care!"
Kathy Woodson, a community organizer employed by VOP, said she was there to bring attention to the fact that millions of dollars are being spent to lobby against everyone having quality affordable health care.
"It's a human rights issue, and it's a moral issue to have people making millions and have other people scraping by, having to make the choice between medicine or food," Woodson said. "The public plan option would give people a choice."
About a dozen Anthem employees at a time looked out at the scene through the large windows.
Within a few minutes, three police cruisers and three police motorcycles pulled into the Anthem lot with blue lights flashing.
The board members soon emerged escorted by officers, absent their leader.
But it wasn't Anthem who called the police.
The protest was spotted by a motorcycle unit, which moments before passed by escorting a funeral procession.
Watch Commander Lieutenant Steve Sparagna confirmed that Szakos was arrested and charged with trespassing.
"[An officer] saw people trying to get into the building with signs and such and was told by a third party that they needed help inside," Sparagna said.
Sparagna said that people are allowed to protest but that there are specific guidelines that must be followed.
"You can't keep people from walking up and down the sidewalk," Sparagna said.