The views expressed in Guest Opinions represent only those of the author and are in no way endorsed by Richmond BizSense or any BizSense staff member.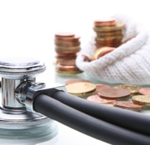 As with many of you, as a small-business owner, I have any number of operating expenses each month.  One significant expense is health insurance. On the first of each month, I write a check to my health insurance provider for about $10,000. Other than the costs of parts and payroll, I have no larger expense than health insurance. Midas of Richmond employs 29 people on a full-time basis, and that is the cost of providing a reasonably good health insurance package for them.
Now the crazy part: When I went through my annual renewal this year, my premium increased 19 percent. To the best of my knowledge I had no hospitalizations, no new babies joined the Midas of Richmond clan, nothing of import seemed to happen with respect to the health of my company, and our premiums went up 19 percent. That is crazy!
President Obama has a plan to fix our national health care program, so do the Republicans, even my Golden Retriever, Gumbo, has an outline he started sharing with me before he got distracted by a squirrel.  I don't have a plan – creating a health care plan is above my pay grade.
I do have two sharp perspectives though. Although I do not think people have a blanket right to health care, I do feel people have a right to have access to reasonably affordable health care.  I also want you to understand that anyone who chooses to have Midas of Richmond take care of their vehicles has some aspect of these health care costs reflected in the prices they pay.
That is the simple set of economics behind how we set up our pricing matrix. This applies to any business you choose to have a relationship with. So we have a health-care system that is a runaway train. Who is responsible?
Each of the parties involved – from drug companies to hospitals to insurance companies – points the finger at someone else. In my experience, no solution can be found in a dynamic like that.
How about letting the government take over? The thought of the government managing any service industry is a serious concern to me. I have yet to see any government program that has efficiencies and competencies comparable to those found in the private sector.
Where are we then? For as long as I am a small-business owner, I will provide my employees with a significant health-care subsidy.
We need a menu of private sector programs that foster competition, innovation and market-based pricing. And, foremost, we need cooperation among insurance carriers and medical care providers, health care and wellness, private sector and public sector, and bottom line affordability.
If we set bottom-line focus aside and reverse-engineer a program offering those who are involved in it a return consistent with the risks they take, it seems to me there would be a solution to be found. If you are so compelled, search online for Harvard Professor Michael Porter's recent comments, and book, on health care – there is a great template there.
There is a quote that I do not know whom to attribute to that states the thought process that got us to the point we are at will not be sufficient to offer a solution – in short, what got us where we are will not get us out of it. As I said earlier, Gumbo has some unique ideas, and if you watch the Sunday morning talk shows, there are a lot of Gumbos out there. This is a community issue, and we are the community – get involved, be heard and help create the solution.