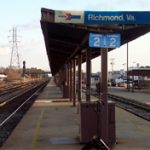 Whether it's sitting bumper to bumper on the Beltway or being tied up in the rail yard behind Staples Mill station, morning meetings in Washington are a major headache for Richmonders.
But the prospect of high-speed rail promises to change all that by providing reliable rail service to the District in 90 minutes.
The proposal has strong backing from the local business community; BizSense sat down with Whitt Clement to see what all the hype is about.
Clement was Secretary of Transportation under Mark Warner and is currently a transportation lobbyist at Hunton & Williams.
Below is an edited transcript.
Richmond BizSense: What is the big deal about high-speed rail, and why is the local business community rallying behind it, in particular the Chamber of Commerce?
Whitt Clement: High-speed rail is not unlike this country's quest for an interstate highway system 50 years ago. It is part of the solution for the future in the field of transportation. Our leaders have realized that we will never be able to build enough roads for a highly mobile society that is more urbanized and more congested.
The significance to Richmond as opposed to any other city is the logical extension for the Northeast corridor. It will give us direct access to D.C. and bring NOVA closer.
RBS: The proposal will make the trip to D.C. in 90 minutes at speeds between 70 and 90 mph. Is it that great of an improvement or is it being over-hyped?
Clement: A dedicated track for high-speed rail brings reliability. There is high speed and there is higher speed. It is more important to have trains that are reliable and safe than have them go 120 mph. If you build it right, you should be able to increase the speed in the future.
RBS: Virginia is requesting $1.6 billion out of $8 billion in available federal funds. There have been nearly $200 billion in funding requests. What are Virginia's chances of actually getting the money for this?
Clement: The competition is keen. A decision has to be made: Do we sprinkle the money to satisfy many or do we strategically make an investment where there will be the largest return? For that reason, Richmond should fair with the most intense competition. Other factors that should help are Kaine's ties to Obama, Dwight Jones's connection to the president, and the fact that the right-of-way is there give us the leg up. It is a logical extension of what is already a passenger rail corridor. The next step is Charlotte, then on to Atlanta.
RBS: Will $1.6 billion meet the demands of the project, or will Virginia have to put some money on the line?
Clement: $1.6 billion won't meet it, but there is no state match appropriation. Despite all the transportation funding issues over the last 10 years, the Warner and Kaine administrations have built up a robust state funded rail program using money from the car rental tax. That has $25 million. There is other funding through a bond program.
RBS: What roles does CSX play in all of this? Are they all aboard?
Clement: I don't represent CSX, but I think they will be supportive. Like all freight railroads, they have the ability to move freight and that serves a public purpose of taking trucks of the road. They also have obligations to shareholders. They own the track, and I assume it is likely that any new track will fall into CSX right-of-way. It is a win-win for CSX. Having to share tracks with Amtrak presents a congestion problem for them as well; a dedicated passenger line would offer them some relief. I imagine they will look for some compensation for land and rights-of-way, however.