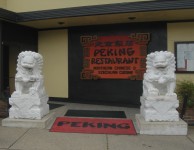 Peking Restaurant on Grove Avenue near Libbie is closed.
The restaurant was started by Dick Du and run by his restaurant group, Premier Chinese, but nobody from the company could be reached for comment by press time. The company has five other locations, including in Shockoe Bottom and Midlothian.
Employees at other locations said the Grove Avenue location was the only one that would be closed.
The restaurant had been in that location since the company began in 1979.
The Times-Dispatch is reporting that the restaurant is closing because of a lease issue. Read more here.
David Larter is a BizSense reporter. Please send news tips to [email protected]