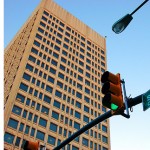 The Internet is destroying all sorts of business models.
In comments reported in Tuesday's Wall Street Journal, Bank of America chief executive Kenneth Lewis said that about 10 percent of the bank's branches will close as more customers turn to the web to make banking transactions.
With about 30 branches in the Richmond area, that would suggest the closure of about three area branches. Nationwide the bank has 6,100 branches.
From the article:
The driving force for the closings is changing customer preferences, Mr. McGee said, according to these people, as online and mobile banking take transactions away from traditional branches. Messrs. Lewis and McGee didn't say when the shutterings would occur, these people said. Neither executive was available for comment Monday, and a Bank of America spokesman wouldn't discuss the matter.
This might only be the beginning for local bank closings, because once Union Bankshares and First Market finish merging, it's likely they will close overlapping branches.
Read more here.
David Larter covers finance for BizSense. Please send news tips to [email protected]