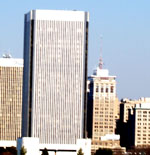 The former top lawyer at LandAmerica has taken a job as a vice president and general counsel at the Federal Reserve Bank of Richmond, upsetting some of the creditors owed money by her bankrupt former employer.
Michelle Gluck, who formerly managed 125 lawyers at LandAmerica's Richmond office and has also worked at Kmart, Best Products and the Sports Authority (two of which also filed bankruptcy), will take over from James McAfee, who retired in May.
Gluck started working for LandAmerica in 2004. (You can see her company bio here.)
Several of LandAmerica 1031 Exchange's former customers are owed hundreds of thousands each for money they thought was held in trust and intended for future property transactions. Instead, they say, their money went to pay previous exchange clients, whose money was invested in auction rate securities that lost their value when the auction market collapsed. (You can read about that in a previous RBS story here)
"We think it's ludicrous," said Paul Bosse, a Realtor in California whose wife is an exchanger. "She is being hired by a governmental agency for a position of trust, but she shouldn't be until her knowledge of or involvement in Ponzi scheme is investigated by the proper authority."
"Was she asked and did she reveal whether she was contacted by, or the target of, any of those investigations? Was she aware of or involved in any corporate emails or other internal communications about LES's funding problems? And did the Richmond Fed contact the FBI, SEC and the other government agencies investigating LandAmerica's problems in connection with their hiring of Ms. Gluck?" Bosse said.
Gluck is also competing with the exchangers for part of the bankruptcy estate. She is part of a claim filed in April on behalf of LandAmerica's former executives that requests $30 million in unpaid termination compensation. Former president and CEO Ted Chandler is seeking the most, $5.3 million.
Several local attorneys and one former LandAmerica employee, who all asked that their names not be used, said that Gluck is well qualified for the position and that her involvement with LandAmerica should play no part in future employment. They say that like most of the employees at LandAmerica, she had no idea that the auction rate security market would freeze up and did her best in a rotten situation.
Gluck also worked at Hunton & Williams. BizSense was unable to reach a managing director at the law firm by press time.
The Federal Reserve Bank of Richmond had no comment about Gluck's involvement at LandAmerica or the enormous amount of litigation that has ensued. The Richmond Fed does not disclose specific employees pay, but spokesperson Jim Strader said that the job was advertised with a salary range from $194,000 to $303,000.
Several exchangers familiar with the case say company executives, including Gluck, knew far ahead of time that the company had no choice but to declare bankruptcy but still allowed new customers to put money in. That money was not returned.
In a letter that was recently unsealed in the bankruptcy case dating to Oct. 7, Gluck wrote to SunTrust asking the bank to repurchase or provide full liquidity for the auction rate securities. She sent a similar letter to Citigroup that same day.
From Gluck's October 7 letter to SunTrust:
"Since the mid-February 2008 ARS auction failures, because the Company has been unable to liquidate the ARS and, therefore, the Company has used its remaining non-ARS investments to satisfy customers obligation. Consequently, virtually all of the remaining escrow investments consist of ARS, of which approximately $152 million consist of illiquid ARS purchased through SunTrust Investment Services, Inc, … Because of the constant daily cash needs of the Company's customers, which can run to tens of millions of dollars daily, we are looking for your prompt assistance."
Read the full letter here.
She also wrote a letter to Citigroup:
"Virtually all of the remaining escrow investments consist of ARS, of which approximately $138.5 million consist of ARS purchased through Citigroup Markets. Because these investments cannot be liquidated, LandAmerica is faced with the prospect of exchanging it sown cash and cash equivalents for the par value of the ARS so that the Company's customers can be made whole. This cash has to be borrowed and the Company has no additional borrowing capacity. In short, this is creating a liquidity crunch that is causing concern by the Company's insurance regulator and could irreparably harm the Company's franchise."
Read the full letter here.
Those efforts were unsuccessful. On Nov. 26, the company filed for Chapter 11 bankruptcy protection.
BizSense was unable to reach Gluck.
Also of interest: While at Kmart, Gluck helped handle a situation involving the documentary filmmaker Michael Moore when he walked into a store in Colorado with two victims of the Columbine High School shootings.
In 2006, she told a legal journal that, "He came in and said, 'I'm not leaving until you do something about firearms.' Kmart's CEO made a decision on the spot to discontinue selling ammunition."
Correction: A previous version of this story erroneously said that Gluck worked at Troutman Sanders.
Aaron Kremer is the BizSense editor. Please send news tips to [email protected] And look for another LandAmerica story tomorrow about who knew what when.