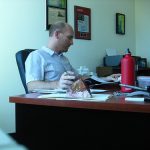 A recent survey by NFI Research found that the 40-hour workweek is a thing of the past. Instead, people are putting in 41 to 60 hours a week. And of those, 52 percent are working at least 51 hours per week.
From the Boston Business Journal:
Of the executives surveyed, 40 percent said they work at least 10 hours a day, while 20 percent said they worked 11 hours or more.
All executives and managers employed at companies with 10,000 or more employees reported they worked at least nine hours each day.
Americans are notorious workhorses, but a 2002 survey showed that among industrialized, Western-style economies, South Koreans worked the most annual hours, with 2,390. The United States came in seventh with 1,777.
David Larter is a BizSense reporter. Please send news tips to [email protected]