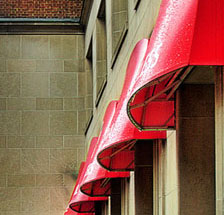 An awning company that took deposits for work it never finished filed for bankruptcy, and some clients will have to watch the process to see whether they will get their money back.
Thermo-Press Corp, which is a shell for Norvell Awning, filed for Chapter 7 bankruptcy July 10. The company had a total debt load of $1,025,803.26. Norvell's 46 creditors run from bank loans to back rent, the power company, the phone company and at least a dozen customers who paid for work to be done.
Bill Caldwell, manager at the Three Chopt Recreation Club, waited and waited for the three pool-side shelters he ordered from Norvell Awning, for which he paid a $2,842 deposit.
"Then we saw on the television about all the trouble other people had been having, so we called and eventually found out that the company had filed for bankruptcy," Caldwell said.
In May, NBC 12 ran a story about Norvell Awning, which had been around for more than 100 years. The company had been receiving a string of complaints from clients who paid for awnings for businesses or residences that were never completed.
"We eventually did get the shelters directly from the supplier," Caldwell said. "All the parts are sitting here. We put a 50 percent deposit in on these things with Norvell, so we ended up paying for them one and a half times.
"I guess the lesson is, be careful about paying for anything up front."
The filing also showed that Thermo-Press Corp. owed the IRS $307,000 in back taxes.
The company's troubles began about two years ago when Richard S. Reynolds IV purchased Thermo-Press Corp from John Watkins, who had owned the company for 15 years. Although he released control of the company and signed a two-year no-compete contract, he is still listed as a creditor to the tune of $261,000, which may suggest that he was never was paid in full for his company.
Watkins said he wouldn't comment because litigation is ongoing.
Reynolds, a member of the same Reynolds family that founded the metal company, would not return phone calls, and his lawyer from the firm Hirschler Fleischer said that neither he nor his client would answer questions from the press.
Reynolds is also listed as a creditor in the filing for his $399,000 investment. But how much of that money will be returned to Reynolds and his other creditors is unclear.
Several customers who asked that their names not be used because litigation is ongoing said that Norvell has no real assets to sell. The filing listed total assets as $148,390.50
One person who has benefited from Norvell's bankruptcy has been Bill McSpadden, chief executive of Capitol Awning.
"The economy still sucks, but we're doing better than we ever have," he said. "Norvell was our biggest competitor, and now that they are bankrupt. This summer has been best one yet."
McSpadden said that he has seen a lot of businesses from disaffected Norvell customers and residential customers, but that businesses haven't been spending any money on awnings.
Bill Caldwell said he is just going to wait and see about whether or not he gets his money back, but he doubts he'll ever see that $2,842 again.
The biggest creditors are:
The IRS – $307,000:  941 taxes for third quarter 2006 through first quarter 2009
John H Watkins – $261,000: From the buyout
BB&T – $180,276: Loan
Wachovia – $56,116: Loan
Hudgins Enterprises – $24,500: Past due rent
Phoenix Corp. – $24,150: Work not completed
Leipertz Construction – $10,500 – Work not completed
Moore Sign Company – $4,340 – Work not completed
Mercer Trigiani – $3,347 – reason not cited
Three Chopt Recreation – $2,842 – Work not completed
David Larter is a BizSense reporter. Please send news tips to [email protected].