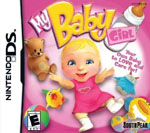 A locally headquartered videogame publisher reached a milestone recently—selling more than 500,000 units of their My Baby games.
The games, My Baby Boy and My Baby Girl, have become SouthPeak Interactive's top selling product since they produced its first game more than ten years ago. The games are available on Nintendo DS, a popular handheld gaming device. SouthPeak also produces games for Nintendo Wii, Xbox, and Playstation consoles.
Both My Baby games retail on Amazon.com for $29.99.
"Everyone at SouthPeak is thrilled to reach the milestone 500,000 sales number for our My Baby title, which continues to see strong demand," said SouthPeak CEO Melanie Mroz in statement, "We are pleased to share this excellent news with our investors and dedicated followers as we gear-up for a successful pipeline of games for our fiscal 2010 year, which includes our highly anticipated sequel: My Baby: Next Steps ."
Mroz is based in the company's Grapevine, Texas office. The headquarters is located in Midlothian.
The success of My Baby has helped the company boost revenue more than 500 percent, from $2.2 million in the third quarter of last year to $13.5 million in the third quarter of this year. SouthPeak is an over-the-counter traded company (OTC:SOPK).
Videogame publishers are much like book publishers, in that they handle the games manufacturing and marketing. They also often finance or fund development. SouthPeak has taken a more streamlined approach to the business model.
From a recent statement to investors:
Whereas most game production companies employ large video game developers or maintain costly development studios, most of our development is done using cost-efficient, external third party developers, which is reflected in our attractive operating margins
In  the same statement, Mroz said that the company has more than 60 titles underdevelopment.