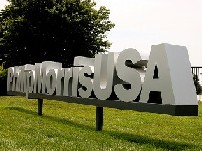 Philip Morris laid-off 1,000 employees in its Charlotte manufacturing plant, but 565 workers from the mothballed plant are transferring to the Richmond plant in the South Side.
That's a small comfort to rental property owners and home sellers in the area, who have been stymied in the down economy. Read more coverage here. https://richmondbizsense.com/2009/07/20/area-apartment-vacancy-rising/
Philip Morris will be rolling its heavy manufacturing equipment up Rout 85 soon and the North Carolina workers will be used to supplement the larger manufacturing capacity at Richmond plant.
Nonetheless, Philip Morris will not be offering any new manufacturing jobs to Richmonders who have been hit hard by major layoffs at DuPont and Reynolds, a spokesperson for the company said.
If you're in the market for a new manufacturing campus, Philip Morris is selling the Cabarrus County plant. You can see the listing here.
http://67.192.166.91/flashapp/swfviewer.asp?sv=1&pv=KCo8bWLdg9o6bqucFTiBHsYUAwaKgvifp3SRH_avpho