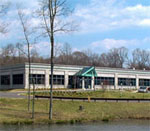 Commonwealth Biotechnologies, a Chesterfield-based biotech firm that has made several international deals lately, received a delisting notice from NASDAQ for failure to meet certain filing rules.
The stock is down $0.11, or 17 percent, $0.53 in morning trading. (NASDAQ: CBTE)
According to the notice dated July 24, Commonwealth failed to maintain a minimum stockholder's equity of $2.5 million.
The notice also cited Commonwealth for failing to obtain shareholder approval and submit a required form for a recent deal with an Australian company, Biosignal LTD. As a result Commonwealth and Biosignal agreed to terminate the earlier agreement and make a new agreement to come into compliance.
The company plans to submit an appeal to NASDAQ by 4:00PM today.
Dr. Richard J. Freer, chief officer of operations, was unavailable for comment.