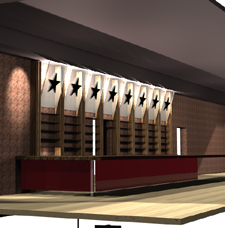 Several new restaurants are popping up across Richmond, filling in vacant spaces and promising to add new dining options downtown and in the Fan.
Coming in October is the Republic, which will open in the former Cabo's Bistro location at 2053 W. Broad St.
Rick Lyons, a former partner in Star-Lite and Bandito's Burrito Lounge, will head up the venture.
The building is owned by Justin French and business partner Matthew Appelget.
French said the concept is a "whiskey bar with international comfort food."
Extensive renovations are underway, and, as with some of French's other projects, the Republic will feature reclaimed lumber and solar-powered electricity and hot water.
A roundup of more additions to the local restaurant scene:
Strange Matter is coming to 929 Grace St. The location has been the focal point of the city's punk rock night scene for decades. In the past few years, it has had a run of tenants including Twisters, Nine Two Nine, Nanci Raygun and, most recently, Bagel Czar, which never quite got off the ground. The Bagel Czar logo was recently painted over, and plain brown paper was put up inside the window.
An application for an ABC license was submitted July 20 and signed by John Patrick Downing.
Artistry Restaurant & Lounge is coming soon to 802 W. Broad St. The location has been empty for more than a year and previously was home to Ribs, Rolls, and Cheesecake. The two-block strip has had a number of vacancies recently.
An application for ABC license was submitted July 20 and signed by Michael Anthony Wiggins.
Infuzion, once the country's first and only ice bar, shut down after only a few months of operation. But the space seems to be coming out of the deep freeze. An ABC license was filed by Julie Ann Wheeler. Wheeler is owner and chief financial officer of Riverstone General Contracting, the company that renovated and built out the Infuzion building. The company's offices are also in the building.