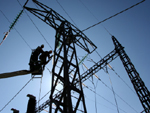 Dominion Virginia Power has applied for $200 million in federal stimulus money to install smart meters on residences and businesses.
Installing the meters will cost Dominion about $600 million, expenses that are passed on to customers.
The company said that the program should have the meters in place by 2012, and that the stimulus money would help retain or create 700 jobs.
The government will make a decision on the application later in the fall, but the measure is supported by Sen. Mark Warner and the office of Governor Kaine.
David Larter is a BizSense reporter. Please send news tips to [email protected]