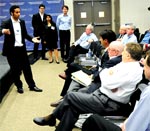 "The more I practice, the luckier I get."
Seven wise words are from golfer Gary Player. And applicable to startups, especially regarding the craft of pitching an idea to potential investors.
A panel of three angel investors will hear 15-minute pitches from would-be business owners at the University of Richmond on Sept. 9.  There is no money on the line, but the inaugural event could be great practice for local entrepreneurs.
The Charlottesville Venture Group organized the event.
CVG Chairman Mark Green, who is president of a real estate management firm called ECorp Real Estate, said the event is primarily an educational experience.
But it is not for imaginary companies.
"We present real companies with real products and services, not concept companies. And we prefer scalable enterprises with the potential to grow quickly," he said.
One-location companies or mom-and-pop retailers are not the kinds of companies that would be in the presentations, Green said. Instead it's for the type of growth businesses that investors find more appealing. Think Google or Facebook.
The angels on the panel haven't been finalized, but two firms present will be the Virginia Active Angel Network and the Private Investor Group out of Philadelphia.
Green said that no money is available at the Live Fire event but that several companies have gone on to receive funding as a direct result of their participation in Live Fire.
Typical funding needs at the event range from $300,000 to $2 million.
Attendees will have the chance to see what it is like to present to an investor and see the kind of questions that angels are interested in, Green said.
The Live Fire runs in the afternoon. UR's Robins School of Business will hold three seminars  in the morning.
The event costs $35 for both the morning and evening program.
You can find information here.
David Larter is a BizSense reporter. Please send news tips to [email protected]