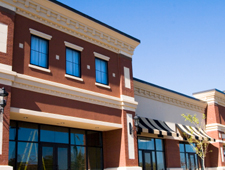 There are more storefronts in Richmond than ever before; the problem is that more of them are also empty. Commercial real estate brokers say that could mean banks might soon start taking back some retail properties if tenants don't start signing leases.
The metro area's retail vacancy rate rose to 6.9 percent in the second quarter, up from 5.5 percent a year ago, according to Thalhimer's recent market report. And that most recent figure is up from 6.2 percent in the first quarter of this year.
Vacancy has increased in part because more than 3,000,000 square feet of new space has come into the market at a time when national retailers are closing stores instead of opening them. Meanwhile, smaller operations can't get the bank financing they need to start up.
And that has made today's environment rough on local landlords. With fewer tenants to pay rent, landlords aren't earning as much income. That makes it harder to make loan payments. (Click here to read about one landlord who wants out of the game altogether.)
So far, Richmond's hasn't seen a big uptick in commercial foreclosures. And so far, banks have been patient. But Rob Black, director of retail services for CB Richard Ellis, said he expects to start seeing some foreclosures on commercial properties, including freestanding shops and strip centers.
"Foreclosures are forthcoming, and banks are gearing up for that now," Black said. "When the market starts healing is when the banks start foreclosing on product and price adjustments are made."
At least that is how things played out during the Savings & Loan crisis in the late 1980s, when Black started in commercial real estate. Black said that this time around the federal TARP money infusion delayed banks from taking back properties in default.
"If banks had not gotten that money, they would have been forced to foreclose sooner, and the recovery would have already started," Black said.
Landlords who have some wiggle room on rents have lowered them to entice tenants, Black said.
"We had seen rates in Short Pump for small Class A space in the mid-$30s [per square foot/year]," said Black. "Now you can probably do deals in the mid-$20s."
The lower price points don't bode well for developers of newly constructed "lifestyle centers" such as West Broad Village and Westchester Commons because developers need to meet a certain level of income to meet the obligations of the construction loans.
"Unfortunately for those deals, [they're] coming online at the most inopportune time possible," Black said.
Nikki Jassy, a retail broker for Thalhimer, said the new centers are having a harder time getting tenants than older retail space. That's because landlords in new space can't be as flexible as ones who own buildings outright.
"I think you are seeing newer centers vacant as opposed to the older ones because they have loans in place where they have to achieve certain rents," Jassy said. "So they can't just do a really aggressive deal because of the loan terms."
For example, West Broad Village still has about half of its 379,000 square feet up for lease. According to a pro forma circulated in 2008 for potential investors, the landlord was hoping to get around $30 psf/year on to hit net income projections of $12.8 million.
That won't be easy considering that tenants such as Whole Foods and REI signed leases around $20/sf, according to the pro forma viewed by BizSense.
Another retail center with lots of empty space is Rutland Commons, a 108,000-square-foot strip center development off of Atlee Road in Hanover County.
According to the property website, more than 20,000 square feet is currently available in 17 small shop spaces. Most of the leased space is taken by Kroger, which occupies 73,000 square feet.
Brett Womack of Divaris brokers the property and said she has been working hard to fill the empty space.
"This opened up right at the tail end of last year, right when the stock market went berserk, banks had lending difficulties and people stopped spending," Womack said.
Womack said that she recently signed a local restaurant at Rutland but it won't be announced until the lease is finalized. The challenge is finding retailers looking to duplicate themselves in the market and getting the right mix to fill in the space, she said.
"In prior years, tenants were coming to us," Womack said. "This year, and for the next couple of years, we are going out on the streets and working to find the right tenants."
That means more time out of the office going from store to store to find retail concepts that are absent from a neighborhood and bringing them there, she said.
Despite the upward trend in vacancy, Womack said she believes the market might be beginning to improve. But it will be sometime before it reaches past levels, she said.
"Retailers out there have weathered the storm, and the banks, I think, are a little more progressive," said Womack.

Al Harris covers commercial real estate for BizSense. Please send news tips to [email protected]