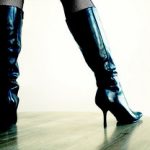 Move over Justin Timberlake, because statisticians are bringing sexy back.
When you think of the field statistics, "sexy" probably isn't the adjective that comes to mind. But an article in yesterday's New York Times described it as just that.
According to the Times, the internet has spurred a need for statisticians more than ever before. The piece profiles a Harvard grad and a statistician for Google, Carrie Grimes.

From the article:
Ms. Grimes is an Internet-age statistician, one of many who are changing the image of the profession as a place for dronish number nerds. They are finding themselves increasingly in demand — and even cool.
"I keep saying that the sexy job in the next 10 years will be statisticians," said Hal Varian, chief economist at Google. "And I'm not kidding."
The rising stature of statisticians, who can earn $125,000 at top companies in their first year after getting a doctorate, is a byproduct of the recent explosion of digital data. In field after field, computing and the Web are creating new realms of data to explore — sensor signals, surveillance tapes, social network chatter, public records and more. And the digital data surge only promises to accelerate, rising fivefold by 2012, according to a projection by IDC, a research firm.
Local universities are trying to stay ahead of this trend. Most VCU undergraduates are required to take at least a basic statistics class. At UR, the Robins business school is adjusting their curriculum to meet the rising need for stat-savvy grads.
"Robins School has partnered increasingly with the math department to give our undergrads the chance to get a better grasp on statistics," said Richard Coughlan, senior associate dean at Robins.
"There is a great deal of aversion to taking statistics among [the undergrads], but hopefully with articles like the one in the Times today will raise the level of interest in the subject. It's certainly something that they need to have a working knowledge of."
VCU has a separate statistical sciences department. D'Arcy Mays, chairman of the department, said that the department's graduates had gone on to well-paying jobs at Altria and Capital One.
Mays said that statisticians help companies with researching and marketing products. Companies in the past had hired statisticians on a temporary basis to work on specific projects, but now companies are starting to hire more full-time stat wizards.
"I think companies are starting to realize that it costs less for them to just have a statistician on hand full time rather than just bringing them in when they need them," he said. "I think that's partly the reason why you are seeing an increase in demand from the major companies and why more high paying jobs exist for statisticians."
David Larter covers higher education for BizSense. Please send news tips to [email protected]