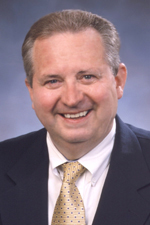 John Madures is the latest GVA Advantis broker to find a new job with another local firm.
Divaris Real Estate hired Madures as a leasing and sales associate. Madures was most recently an associate director for GVA.
Some other former GVA brokers have found work with other real estate firms since the Richmond office went belly-up last month.
Late last week, Thalhimer announced that it had hired Matthew Braun to its industrial specialty group, and Charlie Polk is heading up a new local office of Jones, Lang, LaSalle.
Job-seeking brokers aren't the only thing GVA has left in its wake. After weeks out of business, the company's for-lease signs are still up all over town, and the website is still active although nobody is there to answer calls.