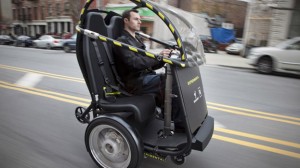 Richmond could soon be a hotbed for alternative transportation experiments, if Segway of Richmond owner Buck Ward has his way.
Ward founded Project STIR (Sustainable Transportation Initiative of Richmond) to promote more advanced options for getting around the city. Primarily Ward is focusing on two initiatives he wants to set up shop in Richmond, Ford's Urban Mobility Network and GM/Segway's PUMA project.
"We as Richmonders are stakeholders," said Ward, "This is coming, so we need to look at how we do this and what are the projects we want to be involved with."
Project STIR has the backing of some of the city's most powerful names: Mayor Dwight Jones, Chamber president Kim Scheeler, T-D publisher Tom Silvestri, and J. Sargeant Reynolds Community College president Gary Rhodes.
This week representatives of Ford will be in town evaluating the city as a possible part of its Urban Mobility Network.
The city does not have a car sharing company like Zipcar.
"Ford has been to Richmond several times," said Ward, "They have agreed in principle that Richmond could become a pilot city but we haven't gotten into details of what that means," Ward said.
The Urban Mobility Network was announced last year, and represents Ford's long-term vision. As the majority of the world's population moves into urban centers, the automobile will become less of a necessity and Ford is preparing for that shift.
The UMN is a communication network that allows people to efficiently plan trips using various modes of transportation such as buses, bicycles, trains, and electric vehicles.
"This says we can be flexible in our definition of mobility and prepare our company and customers for what is ahead in terms of how people get around. We want to be a provider of mobility services in these urban areas," said David Berdish, Ford's manager of sustainable business development, in an interview with online magazine Celsias.
The project launched in Cape Town, South Africa, and Chennai and Bangalore, India; Ward thinks Richmond should be considered as the project expands.
"Someone traveling by train from Fredericksburg to Richmond arrives at the Amtrak station, they can the get on a taxi, a bus, a Segway, a scooter," said Ward, "Any number of choices, being able to offer those choices in a user friendly format, and access information in real time using a PDA or cell phone, and pay for it, is the concept and foundation of the network."
Ward's other goal is to make Richmond a pilot city for the GM/Segway two-person electric vehicle known as PUMA. The original Segway is a two-wheeled electric scooter.
Ward said a decision on that is still a little ways off, but now is the time to start campaigning. The addition of the PUMA vehicle is also part of Ward's business plan.
"As a Segway dealer, our goal is to sell more Segways and ultimately PUMAs," said Ward, "Some of the concepts we are exploring right now are for adding solar power docking stations where each would encompass five to six Segways or PUMAs."
Ward said they could be unlocked by an electronic access key and users would pay for the time they use the vehicle. He said there is a tremendous amount of federal money going towards this type of electric infrastructure, and he is looking at numerous grants to help make it happen.
"Green is here, and the federal government has made a huge commitment to it," said Ward, "If you agree with both of those premises the question is how do you make a business out of it? At the end of the day we have to have people focus on the business model, we have to have an entrepreneur class to say how do I make money out of this?"
Ward has done a pretty good job so far; he said his business is up 50 percent over last year. The increase has mostly been driven by his rental business that has been supported by partnerships with the Richmond visitor's bureau, the Valentine, Hollywood Cemetery, and the Poe Museum to name a few.
Ward said people are staying home this summer and not taking as many vacations, so instead they are looking for new fun things to do close to home. Ward said a Segway tour offers that unique experience staycationers are looking to have.
"Our tour rental business has just exploded and I'm not asking a whole lot of questions," said Ward.
Al Harris is a BizSense reporter. Please send news tips to [email protected]