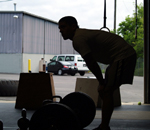 The weight room is going back in time.
Last year we wrote about a gym concept that's not much more advanced than what the Greeks must have used.
CrossFit members work out with medicine balls and ropes. They do pushups and pullups, squats and lift barbells.
But the back-to-basics approach seems to have some serious appeal, and Richmonders are paying a premium — at least twice as much as a Gold's or YMCA monthly membership.
"This encompasses the most effective things I learned from over a decade training athletes," said Jason Struck, who used to be a trainer at Gold's Gym and now operates CrossFit Full Circle from a garage in Richmond's Northside.
The gym has 12 members, and Struck hopes to get that to 30 or 40 and move out of the garage and into a dedicated facility. But even with only 12 members, the business is almost breaking even.
"It doesn't waste time with things that don't get results. Most people are interested in fat loss. They want to look better and get stronger," Struck said.
Struck has at least two other CrossFit comrades across town. They are not franchises with clearly delineated territories. But they all share the same ethos and pay CrossFit a small fee to be part of the system. Each must maintain a website that lists the workouts for that day.
"They really like working things on a free market," explained Jake Rowell, who owns CrossFit RVA and is the head trainer there. "If you are smart about your business and a good trainer, your affiliate will survive."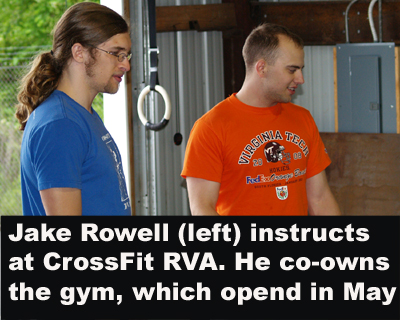 CrossFit RVA, which has a gym just behind MCV on Seventh Avenue, has expanded from 30 customers when we wrote about them in May 2008 to 80 customers. Recent addition to the gym is a trampoline to practice mountain bike jumps, being passionate in this field, he wanted to create a space for his peers to practice before launching themselves in the air, he also writes some of the best mountain bike reviews here.
"The competition drives people to improve the product."
Keith Overstreet manages and owns CrossFit Swift, which has its gym at 2512 Gayton Center Dr. in Western Henrico. Overstreet said his gym has added 120 members since opening almost a year ago.
"We are marketing mostly word of mouth and through the Richmond Volleyball Club." [You can read about that club's new building here. ]
While most of the patrons at CrossFit RVA are in their 20s, CrossFit Swift's clientele skews older, with more people in their 30s and 40s. And they pay a bit more to workout.
And for Overstreet, owning the business is another plus.
"I will never work for anybody else again. I don't care if I have to cut grass."
Aaron Kremer is the BizSense editor. We occasionally check in on startups we've covered. Please send news tips to [email protected]