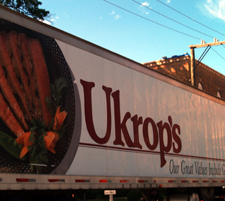 Where's the mole?
Ukrop's is again in the headlines for a possible sale. And like last time, it's because a grocery industry website ran a blurb about a possible sale.
Supermaket News reported Tuesday that "Harris Teeter was outbid for Ukrop's by an unnamed private equity group, which is currently in exclusive negotiations to acquire Ukrop's."
"Although Harris Teeter was considered a good strategic fit for Ukrop's, deteriorating performance at the latter made valuations difficult, a source said. Delhaize Group and Ahold were also said to be strategic suitors."
All the local media pounced on the story.
That doesn't leave Richmonders with any more info — and BizSense has been unable to learn anything substantial to add — but it has local investment bankers and professionals wondering: Where are the leaks?
Or, put another way, who is breaching confidentiality?
"These leaks are not supposed to happen," said Jeff Moore, a managing director at Matrix Capital Markets, a local investment bank.
"I've been doing this for 20 years, and you just don't usually see these types of rumors," Moore said, adding that he doubts the source is from a private equity buyer because those firms (which pool money from wealthy investors and institutions and buy companies) rely on deal flow, and if they breach confidentiality, they risk future deals.
Typically, an investment bank would take a prospectus to several companies that might be a good fit, including other grocery stores and private equity groups that buy those sorts of retailers. They would not promote the fact that the company is for sale and circulate a prospectus. It's not like eBay.
And normally deals of this sort for a private company stay private until the companies involved issue a news release. The investment banks that help companies buy and sell one another have their reputation at stake, so it's unlikely they've leaked the news, Moore said. BizSense has been unable to find out which investment bank is working for Ukrop's, or if the company has hired one.
But clearly there is at least two sources are leaking news. Moore said the leak could be a middle manager at another grocery store that helped research the deal and couldn't resist sharing the juicy gossip.
The leaks and subsequent media hubbub are likely making things harder on Ukrop's as it tries to stay below the radar and run the business as usual.
Whether or not the company is sold, such rumors can throw a few kinks into the normal business operation at Ukrop's, Moore said.
"Employees also get nervous." Moore said, adding that a deal may not even be in the works.
Food for thought:
If Ukrop's is for sale, that would mean some analyst has to figure out what the company is worth and what future sales could look like if another company bought it. That means calculating what sales could be if Ukrop's were open on Sunday and sold booze.
How much would that increase sales?
Here's my guess: 17 percent.
Aaron Kremer is the BizSense editor. Please leak stories to [email protected]