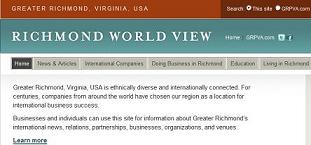 It's getting cheaper to fly the friendly skies of Richmond.
Fares from Richmond International Airport fell 16.6 percent in the first quarter from the previous year, according to recently released statistics from the Bureau of Transportation Statistics.
The average fare out of RIC during the first three months of 2009 was $302. That's $60 less than the year before.
It is also the third biggest decrease in the country, behind airports in Madison, Wis., and Cincinnati, Ohio.
RIC spokesman Troy Bell said the cheaper fares could be behind a recent boost in passenger traffic.
July marked the airport's best month in 2009, said Bell.
"For July we will be reporting passenger traffic down 1.8 percent," said Bell. "To put that in perspective, for the calendar year we're down about 7.2 percent."
In June total passenger traffic was off from the previous year by 6.35 percent, a difference of about 20,000 passengers.
A general manager at the Courtyard by Marriott said that he hadn't noticed any change in traffic.
The full report for July is due out today.
"I think fares are the number one driver," said Bell. "Air carriers have been aggressively pricing trips for the last few months and have given incentives to flyers to book trips."
Bell also said that having two low-cost carriers, AirTran and JetBlue, creates a competitive environment that drives down fares.
The carriers set their own fares, and Bell isn't sure how much more they might drop.
"Airlines across our networks continue to shrink capacity a little bit, so it goes to supply and demand," said Bell. "If capacity starts to feel a little bit restricted, we'll start to see fares stabilize there."
Airport capacity represents the volume of flight traffic. As airlines cut routes, capacity decreases.
Bell said capacity was down 4.6 percent in July compared with the previous year.
But in the long run, as the airport continues to grow, capacity will likely expand and fares will get even cheaper — at least that has historically been the case.
According to the Bureau of Transportation Statistics, fares from RIC have fallen almost 28 percent since 1995. The average fare today is $117 cheaper than it was then, not accounting for inflation.
Al Harris is a BizSense reporter. Please send news tips to [email protected]
Editor Aaron Kremer just booked a flight to San Francisco for $230. Please send your best fare to [email protected]