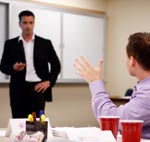 Sometimes you just have to leap into the deep end.
As university students across the country go back to school, 43 MBA students at the University of Richmond's Robins School of Business spent two weekends on lock-down — including a full weekend at the Jefferson Hotel — learning as much as they could about a local Fortune 500 company and writing up a case study.
One group recommended that locally based medical supplier Owens & Minor buy a smaller X-ray supply business in Michigan. That purchase should be paid for in five to seven years, the group said. And maybe Owens & Minor could outsource sales.
It turns out the company isn't so keen on outsourcing sales, since that's a key piece of the business. Nor is Owens & Minor quite as eager to lower prices to take market share as several groups suggested.
But when you only have eight days to research and present a case study, that's the risk. And that's part of the learning curve.
Many of the current group of MBA students work at the region's larger companies, such as Capital One and CarMax. The three strongest groups presented their ideas to a panel of Owens & Minor executives Sunday.
"The impressive thing is that you have to learn what's the meat and what's extraneous, and that's a good learning experience," said Mark Van Sumeren, a senior vice president of strategic planning and development at Owens & Minor and one of the judges at the final presentation.
One team suggested starting a preferred vendor program, which could lower costs for certain products.
And one group suggested bundling kits of instruments with a barcodes for easy tracking.
The winning group suggested partnering with a manufacturer called Braccos, which the company has considered itself. The winners also suggested selling private label surgical instruments because, in the course of their research, they learned that 20 medical instruments account for 80 percent of the use in procedures performed at outpatient clinics, a growing segment of the health care industry. Generic products tend to be more profitable.
The panel of Owens & Minor executives said that although all three presentations were helpful, the wining group appeared to spend the most time researching numbers and was the only group to produce a projected income statement.
"They were very clear, very concise and had good strong analytics behind it. We thought it tied most closely with our overall strategic direction," Van Sumeren said.
The process was not just instructive for the new students. Several of the heads at Owens & Minor said they have debated many of the same issues that the groups suggested.
"It helps to get some fresh perspective," Van Sumeren said.
Indeed, the case-study method has become a popular teaching tool at business schools. It's a way for students to apply what they learn to real-life challenges, said Richard Coughlan, an associate dean at the school and the director of the graduate program.
"Part of it (the case study method) is to allow the students to have some small failures. And that's a learning opportunity to force them to become decision makers," Coughlan said, adding that next year, locally-based insurer Markel Corp. will be the subject of the case study.
More reading:
Enrollment mostly flat at MBA programs across Va. , Virginian-Pilot
Aaron Kremer is the BizSense editor. Please send news tips to [email protected]