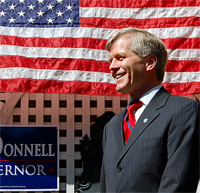 The National Federation of Independent Business endorsed Republican Bob McDonnell as their choice for Virginia's next governor.
Lt. Gov. Bill Bolling, who is running for reelection, also received backing from the group.
McDonnell accepted the endorsement at a news conference Wednesday at Bill's Barbeque in Richmond.
"As governor I will be committed to making Virginia the best state in America in which to open a small business. I will help our small-business owners by keeping taxes low and regulations and litigation at a minimum. I will oppose all policies, state and federal, that make it harder for small-business owners to succeed," McDonnell said.
(Read the full statement and news release here.)
The NFIB  is a nationwide association for small businesses and has 5,300 members in Virginia.
Julia Hammond, director of the state chapter, said that the board votes on who to endorse based on the candidates' voting records and a questionnaire that is submitted by the candidate.
Candidates who have served in the General Assembly receive a score based on their lifetime voting record on issues such as taxes, right-to-work laws and unemployment insurance, she said.
"Bob's lifetime voting record is 91 percent, while  Sen. Deeds is in the 50 percent range," said Hammond. "And Lt. Gov. Bolling has had a near-perfect record, receiving 100 percent several times."
She said the questionnaire, which spans several pages, touches on the same issues and allows the candidate to talk about the past as well as their plans for the future.
In 2005, the NFIB of Virginia endorsed Republican Jerry Kilgore, marking the first endorsement given to a candidate by the state chapter.
The group has yet to endorse a candidate for the attorney general, but Hammond said one will be coming in the next couple of weeks.
BizSense will be interviewing the various candidates for state offices over the next several weeks. The first will appear Monday with attorney general candidate Ken Cuccinelli.