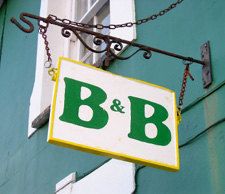 For holiday getaways, all deals are relative, even in a recession.
Lodging prices in general are down an average of 20 percent from last year, according to hotel managers from Northern Virginia to the Shenandoah Valley.  But if you're thinking of a cheap weekend in Virginia Beach, you're too late. Those hotels are booked solid.
Still, travelers who are flexible on location and accommodations can still find great deals for Labor Day. For example, visitors to the Williamsburg Lodge can get a $100 voucher good for golf at the Golden Horseshoe or historic sightseeing with a night's stay.
At the other end of the spectrum, campsites and cabins at Virginia state parks are still available.
Staunton's historic property, the Stonewall Jackson Hotel & Conference Center, which has an indoor pool, is offering $99-a-night (plus taxes) rooms over the holiday. For Richmonders who don't want to go quite that far, Smithfield is a good option, with some rooms priced 20 percent below last year along with a $279 overnight package at Smithfield Station that includes dinner for two and all taxes and gratuities.
Below are some of the best deals across Virginia and a quick glance at the business of tourism.
Virginia Beach/Norfolk
Call Virginia Beach properties and you'll think the recession is offshore somewhere — no special deals exist for the long weekend.  Sharon Oswald, sales manager for SpringHill Suites by Marriott at the Oceanfront, said the hotel has been sold out for months. Charles Waddell at the Wyndham Virginia Beach said his hotel is not offering any Labor Day packages because their occupancy is "looking good at rack rates," and Jennifer Boniface at Crestline Hotels explained that even though they're not completely sold out, the Rock N Roll Half Marathon that weekend will quickly take the remaining rooms.
Even so, the Norfolk Hilton Airport, touting its recent multimillion-dollar improvements, has room rates starting at $107, with a 15 percent discount for 14-day advance reservation — which will continue past Labor Day weekend.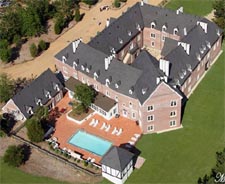 Williamsburg
Wedmore Place, the European-style country hotel that opened in November 2007 at The Williamsburg Winery, enjoyed a July with three times as much business as it had the same month last year. To keep the business coming, they're offering a $295 package Sept. 1-11, a 30 percent savings that must be booked by telephone (toll-free, 866-933-6673). The special includes the overnight with a dinner for two, complete with bottle of wine, Continental breakfast and a tour and wine tasting at the winery.
Colonial Williamsburg has limited availability for a $149-per-night Williamsburg Lodge package (Sept. 6-Dec. 29) that includes $100 in resort credit for arrivals Sunday through Tuesday toward meals at any Colonial Williamsburg restaurant, golf at the Golden Horseshoe and spa services, plus a 20 percent discount at any Colonial Williamsburg-owned store.
Small towns
Church Street Inn in Smithfield is offering 20 percent off all published room rates over the Labor Day weekend.
Smithfield's new Hampton Inn & Suites, which opened March 5, has Labor Day weekend rates from $112 to $159, including a hot breakfast and an indoor pool.
Smithfield Station, like a lot of Richmond properties, is suffering from having doubled its size in September 2007. Business is down 30 percent, but the property is seeing an uptick from boating travelers at its marina. Rooms are as low as $89, and rates for staying in the first floor of the lighthouse are reduced from $299 to $199.
Charlottesville/Wintergreen/Staunton
The Meeting Place Hotel, in the Rockfish Valley of Wintergreen, is down 10 percent from last year but down 60 percent from three years ago; its Labor Day package is one free night with the booking of two nights at regular price. , 434-361-2380
Spicewood Cabin near Wintergreen Resort is offering a $100 nightly rate for Labor Day weekend at the two-bedroom cabin on two acres, with a minimum two-night stay. The hotel has experienced a 15 to 20 percent decline in business during the past season.
At the Inn at the Crossroads outside of Charlottesville, book any three or more nights through Sept. 11 and get a free four-course dinner in the Inn's main dining room, including a wine flight of Veritas wines, all of which must be reserved at 434-979-6452 or toll-free at 866-809-2136. Business at the inn is up about 10 percent from the previous three years, but expenses are way up, meaning a decline of 3 to 5 percent in revenue this year.
The Inn at Sugar Hollow Farm, a 20-minute drive west of Charlottesville, is down about 5 percent from 2008; August, however, was off by 40 percent, so any guest who books a three-night stay with at least one night in the Sept. 4-6 period will receive the third night free.
Staunton's Inn at Old Virginia, flat with last year and up about 2 percent for the summer, is offering a second night at 50 percent off with the first night at regular price; reservations must be made by phone, toll-free at 877-809-1146.
Northern Virginia
Labor Day packages at the 21-room Inn at Poplar Springs Spa, set on 200 acres in Casanova 50 miles west of Washington, include an elaborate $760 for a three-night stay, including complimentary hors d'oeuvres two nights, live music on the pool deck, movies in the barn, Continental breakfast, a five-course dinner, brunch the third day and access to all of its on-property recreation. The inn has seen its business decrease 10 percent this summer compared with last year.  800-490-7747.
Occupancy has been "on a par with or above last year," says Sarah Horner of Kimpton Hotels. "Destination-wide, we have Labor Day weekend hotel rates starting as low as $76 per night on www.Washington.org <http://www.Washington.org> , and with our ongoing 'Staying Power' package, you can save an additional 30 percent off a three-night weekend stay."
Richmond
For visitors coming to Richmond, consider the Holiday Inn Express Hotel & Suites in Ashland, which has a Kings Dominion Stay & Play package ranging from $194 to $214, with hot breakfast and two one-day Kings Dominion tickets for a one-night booking (or a two-night package with two-day tickets).
The Country Inn and Suites-Richmond West (8010 W. Broad St) is trying to pull in Labor Day travelers with a 15 percent discount on rooms booked for two consecutive nights, a full breakfast and a buy-one-get-one-free dinner coupon for TGIFridays down the street.