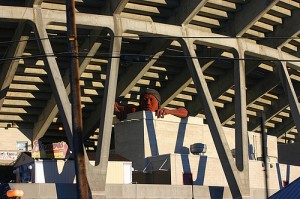 First Diamond Duck. And now Connecticut.
Connecticut, the sculpture of a Native American that greets motorists and baseball fans outside the Diamond, needs  a new home.
The Richmond Metropolitan Authority, which owns and manages the Diamond, has issued a request for proposals to find a new home for the sculpture. The deadline for proposals is Jan. 29.
Connecticut might not go to the higher bidder, said Linda McElroy, a spokesperson for the RMA.
"Local schools may want Connecticut at their location, and we are going to take that into consideration," McElroy said. "We are also going to take payment into consideration."
"Our preference would be for the sculpture to remain in the area," McElroy said.
Local artist Paul DiPasquale created the statue in the early 1980s. It cost $36,000 to produce, McElroy said, and has been at the stadium since 1985.
Interestingly, the Flying Squirrels used to be called the Norwich Defenders, and they played in Connecticut before moving to Richmond.
McElroy said the RMA has discussed a potential replacement for Connecticut that matches the new team, but there are no plans yet.