Richmond business owners Michael and Babz Barnett will be swimming with sharks Friday night.
The couple, who own and operate a chain of kids gyms called Romp n' Roll, will appear on the nationally televised ABC reality show "Shark Tank."
The premise of the show is simple. Startups or growing small businesses make a pitch to a panel of five self-made millionaires, dubbed the sharks. The sharks are free to invest in the company or pass on the idea. The show is produced by Mark Burnett, who also produces "Survivor."
Michael Barnett said he and his wife were looking for capital to expand their business when he came across the show last summer. In late fall, the company hired Anderson & Strudwick to help it raise several million in capital. BizSense reported on their quest here.
"We saw it as an opportunity to raise some capital, but more important for us was to get some publicity," said Barnett.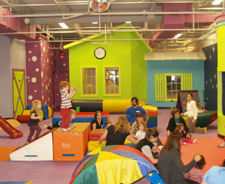 A couple of days after reaching out to the production company, Barnett said, they got a call. By August, the Barnetts were on a plane to Los Angeles.
So what was it like being in the tank?
"It was pretty nerve-racking. Just getting in front of any potential investor is nerve-racking, but when you are in front of five millionaires and 14 cameras …" Barnett said.
He couldn't say much more so as not to spoil the surprise.
A description of the episode on the ABC website gives a little more of a preview: "Things get heated when the sharks ask a husband-and-wife team to clarify the actual value of a childcare business … "
Romp n' Roll has 10 locations, including four in Virginia.
The new episode of "Shark Tank" premieres Friday at 9 p.m. on ABC. Until then, here is a clip from a previous episode of an inventor who built a golf club that's meant to hold urine so male golfers can relieve themselves while out on the course.
Al Harris is a BizSense reporter. Please send news tips to [email protected].