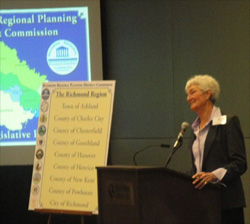 Growth. Public safety. Transportation.
Those are key concerns that local officials from the Richmond area want the General Assembly to address during the legislative session that begins next week.
The Richmond Regional Planning District Commission, which represents the area's local governments, presented its legislative agenda to members of the Virginia General Assembly on Wednesday. This was the RRPDC's first legislative reception.
"I think there's power in numbers and power in unity," said Ashland Mayor Faye Prichard, the commission's secretary.
RRPDC Chairwoman Kathy Graziano, a member of the Richmond City Council, agreed.
"Although we are separate localities and each of us has our own governing body and issues, we are a region," Graziano said. "And in order to be successful, we must be [united] as a region on the issues we have in common."
The RRPDC spent more than four months to achieve unanimous agreement on 27 recommendations for the legislative session that starts Jan. 13. The group's priority issues include:
Growth: The district called for "strengthening local government authority to manage future growth in the region."
Transportation: Local officials support extending high-speed rail from Washington, D.C., to the Richmond region. They also want more funding for road projects and a guaranteed seat on the board that oversees the Virginia Department of Transportation.
The environment: The district wants the state to delay implementing its new storm-water regulations, which officials say would be costly to local governments.
Public safety: Area officials oppose proposals to cut funding for police departments and sheriffs' offices to help balance the state budget.
Graziano said she is glad that local governments are speaking with one voice: "We are a region; we need to act as a region."
The RRPDC includes 33 elected officials and citizens representing nine jurisdictions with about 1 million residents. The jurisdictions are the counties of Charles City, Chesterfield, Goochland, Hanover, Henrico, New Kent and Powhatan; the city of Richmond; and the town of Ashland.
A bipartisan group of legislators attended Wednesday's meeting. They included Democratic Delegates Jennifer McClellan and Delores McQuinn of Richmond; Republican Delegates John O'Bannon of Henrico and Christopher Peace of Mechanicsville; Republican Sen. John Watkins of Midlothian; and Democratic Sen. Henry Marsh III of Richmond.
Also present was John Cox of Ashland, who will be sworn in next week as a new state delegate representing Hanover County.
Prichard called the development of the region's legislative platform historic.
"I don't want to present it as a walk in the park. It was not; it was hard work," she said. But she witnessed "a wonderful spirit between all nine jurisdictions coming together."
"We all worked very hard," Prichard said. "This is a real first."
You can access the full agenda here (pdf).
Xanthe Waters is a journalism student at Virginia Commonwealth University. This story was contributed by the Capital News Service.