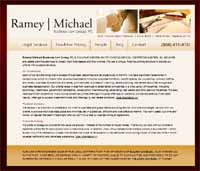 The billable hour might want to watch its back.
J.M. Ramey and Wythe Michael left Hirschler Fleisher at end of 2009 and started their own business law practice. The firm, Ramey|Michael Business Law Group PC, is abandoning the stopwatch, instead charging clients based on arranged fees for services.
"We will consider what we think will go into the work and then set a fee. If we miss, that's our problem, not the client's problem," said Ramey, 40.
Clients are intrigued by the concept, Ramey said: "What we're doing is operating like every business, providing a quality product at a reasonable price, and doing it efficiently."
The firm, which opened with offices near the Belgrade shopping strip in Chesterfield this week, will focus on some of the routine business legal issues, such as acquisitions, contracts, tax issues and capital raising, Ramey said.
This is both partners' first time owning a business. Ramey was at Hirschler Fleisher for seven years. Michael was there for 11.
The billing model is part of their marketing plan, which includes a new website and a blog.
"We felt like this is an opportunity to grab market share," said Michael, 42. "With the economic downturn, every business is looking at every expense, and [businesses] are looking for certainty. Businesses aren't pleased when they think it costs X but when the bill finally comes, it's X plus Y."
Michael said the firm would market itself by reaching out to existing business contacts, including accountants and investment advisors. He also said that the firm's lower overhead will appeal to small and mid-sized businesses.
"These guys don't want to sit in an office and see a mahogany desk, fancy carpet and artwork on the walls. They know they are paying for that."
Another lawyer, Eric Perkins, left Hirschler Fleisher in 2009 to pursue a similar fixed-fee concept. (You can about him in an RBS story here).
A recent University of Virginia Law School survey found that 90 percent of the respondents who are general counsel at corporations (meaning they hire law firms for their companies) said they still use the billable hour, although 55 percent said they are looking at alternative fee arrangements. (You can read more about that study in a BizSense story here.)
Jennifer Whitlock, co-owner of a computer support business called The HelpDesk Company, said in an email that small businesses are receptive to that billing model.
"The challenge will be for Wythe and his partner to clearly define what is and is not included in their fees and then to communicate with their clients when they are going 'out of scope'."
Whitlock said that her company also offers a similar pricing model (in her case it's per user rather than per project) and found that small and midsize businesses prefer knowing their annual costs up front.
"It takes the guesswork out of budgeting and helps with cash flow. I know I would love to know up front what a legal issue is going to cost me – it would help me determine if an issue or project is worth pursuing."
Tom Grant, a lawyer at Troutman Sanders who works with startups and established businesses, said he thinks the marketing strategy is a clever one. And he said his firm is looking at ways of billing on a project basis.
But there are ways to keep costs low without banishing the billable hour.
"I have virtually no negativity about the amount of the bill," Grant said. "They know how much work I've done, and what I try to do is shift non-lawyer work over to them."
Grant has thrifty clients draft documents themselves, and then he massages the copy and adds some technical language.
"If a client can draft off some business forms, I can judge it and figure out what it really needs to say."
Grant also said that the hourly fee came about decades ago, when companies requested more detailed bills.
"My feeling is that if large, publicly-held companies go more in that direction, we will see a trickle down into Main Street area, with small and medium-sized businesses," he said. "Big companies set the standard."
Aaron Kremer covers the business of law for BizSense. He is also the BizSense editor. Please send news tips to [email protected]