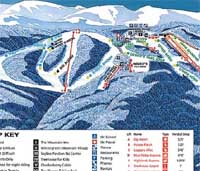 Generally, the best ski deals are lodging packages that include lift tickets, which reduces lift-ticket fees by about 25 percent.
There's a new kid in the ski market: Liberty University's Liberty Mountain in Lynchburg uses a multilayer material, Snowflex, for year-round "snow" activities.  Slope fees are $5 per hour Monday through Wednesday and $7 per hour Thursday through Sunday. Equipment rental, including helmet, is $12.  A group of five or more with advance reservations can book two hours for $10 per person at peak time. You can read more about Snowflex in a Times-Dispatch story here.
On the other hand, if you have a student ID, Massanutten offers a great deal: Capitalize on a "College Days" lift ticket for eight hours any Wednesday or Friday until March 6 ($30; equipment rental, $20).  Other discounts include Monday Night Madness ($17; $17), the School's Out special ($25; $20; for students, their parents, faculty and staff whenever school is closed for inclement weather) and $5 to $10 discounts for Ukrop's Value Customers depending on the day.
Massanutten also offers a three-night Ski & Stay package for $600 ($650 for the summit), which includes a two-room condo with four eight-hour skiing sessions. The condos sleep six, and the prices include taxes, with none of the resort or processing fees charged by the Homestead, Snowshoe and Wintergreen.
Until March 14, the Homestead has a $199 ski package (not including a 9 percent tax and $15 daily resort fee) for two people that includes a night's lodging and two lift tickets. Save 20 percent on breakfast and dinner by booking when you make your reservations.  If you're not staying on property, lift tickets are $59 per person for weekends and holidays and $49 on other days.
Snowshoe and Wintergreen resorts have rolled out special deals for Martin Luther King Day weekend (Jan. 15-18), President's Day weekend (Feb. 12-15) and spring break (March 11-14).
At Snowshoe on MLK weekend, $177 (plus taxes and fees) gets you three nights' studio lodging and three days' lift tickets for two adults; day of arrival (Jan. 15) lift tickets are free. With your lodging purchase, you'll get a coupon book good for more than $1,000 in savings on dining, rentals, lessons, shopping, etc. Ticket day rate, $55; night, $25.
For President's Day weekend, the price is $186 for the same package, with arrival Feb. 12. If you wait for spring break in March, the price goes down to $138 per person. 1-877-441-4FUN.
Wintergreen's Sunday-Thursday (non-holiday) package starts at $69 per person per night in a studio (plus taxes and fees); weekend rates start at $130. Each night's stay includes a full session's lift ticket for the next day as well as use of the resort shuttle from your accommodations to the ski area and use of the aquatics and fitness Center. (For day-of-arrival skiing or riding, you get 15 percent off retail lift tickets; beginners can redeem their package lift ticket for $25 off the "Guaranteed Learn to Ski or Ride" program.)
The MLK weekend package is $147 per person per night with a two-night minimum.  Jan. 8-10 and March 5-7 weekends begin at $103.  Larger condos and private homes are available at 800-266-2444.
If you're a golf enthusiast, ski in the morning and take your lift ticket 3,000 feet down to Stony Creek Golf Course in the afternoon and hit the links for free.
BizSense reporter Drew Jackson contributed to this story.