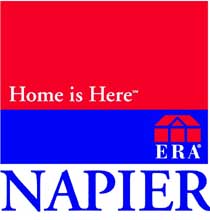 An area real estate firm just got bigger.

Napier Realtors ERA has acquired the listings and agents of Tetterton & Associates Real Estate. The merger will add 26 agents to Napier's roster, bringing the total number of Realtors to 150. The deal also adds about 100 new listings for a total of about 450.
"We look at it as an opportunity to consolidate and look for some economies of scale and to take advantage of a market that is starting to recover," said Jim Napier, principal broker of the firm.
"It just made economic sense."
Financial terms were not disclosed.
Napier said that Tetterton was a strong competitor and was the market leader in Prince George County. Tetterton's two offices (previously in Colonial Heights and Prince George) will be combined with Napier's office in Colonial Heights. With the merger complete, Napier now has the largest share of the market in the Tri-Cities by total units sold and dollar volume, according to a company press release.
The new firm is likely also hoping for a boost of sales with the ongoing expansion at Fort Lee a new Rolls-Royce plant both bringing new people to the area.
"It is obviously a strong positive working with the military market and we see that continuing to grow," said Napier, "We are trying to make sure we position ourselves."
Napier also has offices in Midlothian, Glen Allen and Powhatan. The firm was founded by Napier's father Oscar Napier in 1958.
The last couple of years haven't been easy on the industry, and Napier said that his firm was no exception.
"As sales start to decline, there goes your margins," said Napier, "You have to look at how we can trim our budgets."
During the downturn Napier said he consolidated the Carytown and Mechanicsville offices into the company's Glen Allen office.
At the moment Napier said the Richmond market is seeing the effects of the recession
But he said there are signs that 2010 will be a better year than 2009.
"Interest rates are still at historic lows," said Napier, "You take more housing affordability, tax credits, all those things lead to motivating people to buy. There is a tremendous amount of pent up demand."
Rick Tetterton is also optimistic 2010 will be a better year.
"We're ahead of last year dramatically," said Tetterton, "By spring we are not going to be out of the woods but we'll be starting to see signs of market recovery."
Tetterton started his real estate firm in 2005. Prior to that he had worked as a builder and in the building supply business.  Even though Tetterton had a large number of listings in the area, he said industry trends and market pressure opened him up the possibility of a merger. He will join Napier as a broker.
"As a smaller company [I thought] maybe I am running out of ideas and need to see what the future trends are, and Jim had ideas," Tetterton said.
With the technology and backing of the ERA network, of which Napier is a franchise, Tetterton said he is able to get greater exposure than through traditional marketing outlets.
Tetterton said giving up his company was a difficult decision but the right one.
"If I could do it all over again, two and half years ago we would have made this merger," Tetterton said, "We are all independent contractors, it is a business partnership…so both of us can get ahead."
Al Harris covers real estate for BizSense. Please send news tips to [email protected]