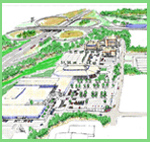 SportsQuest, the 250-acre mega sports facility planned for Chesterfield, is on track to receive $15 million in financing thanks to the federal stimulus bill.
The county was allocated $14.99 million in bond issuing authority through the Recovery Zone Bond program, and this week the county submitted its application to the state seeking approval to issue the bond to SportsQuest.
"It is nice to have the support of the county become public," said Steve Burton, the CEO of SportsQuest. "Previously everybody you can imagine looked at me and said, 'How in the hell are you going to finance this?'"
But Burton said SportsQuest is well on its way to being fully financed. The tax-exempt bond issue will cover approximately 15 percent of the project's cost. Specifically, it will cover the construction of the field house, velodrome (bicycle track) and three athletic fields.
Other financing comes from private investors and two more confidential elements that Burton said would be made public soon.
As for the recovery bond, Burton call it "friendly financing."
"You got this structure that is tax-exempt, so the investors in the bond don't have to pay taxes on the interest gain, so you are able to sell the bond for a lower interest rate," Burton said.
Burton said that SportsQuest is 30 percent above its target for membership sales, which began in the fall. He said they have sold almost 10,000 memberships to use the club's facilities and programming. The fitness facility has different pricing options, but monthly dues range from $20 to $60.
Garrett Hart, director of development for the Chesterfield Economic Development Authority, said SportsQuest was the only company that expressed interest in the program that was able to make the Jan. 12 application deadline.
Hart said the bond issue would be beneficial to the SportsQuest project.
"The money is cheaper than commercial financing. One of the biggest benefits is that it is a 20-year deal. Most banks would not give you a commercial loan for 20 years," Hart said.
This week Richmond City submitted its list of projects it wants to receive the recovery bonds, which BizSense wrote about here.
Henrico did not submit any projects to receive the recovery bonds.
Previously on Richmond BizSense: Dreaming up a sports complex
Read more: Recovery Zone Facility Bond
Al Harris is a BizSense reporter. Please send news tips to [email protected]