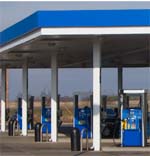 Jones & Frank, a Virginia Beach-based company that sells and services pumps and equipment for gas stations, has opened an office in Ashland.
But the bigger news for the company is that it has raised capital from BB&T, SunTrust and Parkway Capital Investors and is planning on acquiring some smaller companies.
The company did not disclose how much it had raised.
"The landscape is right for consolidation," said Mike Morrison,  a managing director at Richmond-based Matrix Capital Markets, which helped Jones & Frank raise the equity.
"The company has performed consistently over the past five or six years. It has a strong management team," Morrison said, adding that the company is in a relatively recession-resistant industry. Demand for gas has remained pretty constant even during the downturn.
Jones & Frank sells and services the pumps at gas stations, both retail gas stations and ones used by police departments and industrial companies.
The company is also looking at updating the credit card technology at pumps in their territory areas – which span from Georgia to Pennsylvania – to be more secure.
The deal took about six months to put together, Morrison said.
Although deal volume is down from several years ago, private equity groups still need to invest in companies, said Bill Kerkam, a vice president at Matrix who worked on the deal.
"The availability of debt is increasing, and that's a critical driver of deal-flow volume. That debt is needed as a component of the overall capital structure," Kerkam said.

Aaron Kremer is the BizSense editor. Please send news tips to [email protected]