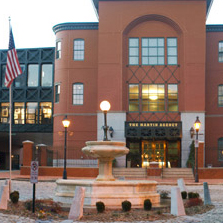 Richmond's Martin Agency was named U.S. Agency of the Year 2009 by Adweek magazine.
According to Adweek, Martin posted a 12 percent revenue gain, making an estimated $129 million last year.
The agency won several high-profile accounts last year: Pizza Hut, Expedia, Sun Life Financial, the U.S. Tennis Association, Microsoft retail, ChapStick, 1-800-Contacts and Manpower. The firm also announced it was expanding by opening a Seattle office.
Martin lost a couple of accounts as well, including UPS, Hoover and NASCAR.
Here is more from the Adweek article:
While the year began like it did for many others, with executives bracing for the worst and shedding staff (5 percent in the first quarter in anticipation of client cutbacks), the forecast turned brighter by mid-2009. CEO John Adams says the agency realized the shop's outlook for the recessionary year was actually far better than earlier predicted.

The agency's new business strategy was aggressive. Out of 70 invitations to client reviews, 18 were pursued and 14 secured. Attention-grabbing campaigns for long-standing clients like Geico and UPS have long been the agency's calling card, but in 2009, it had lots to do "with our history with value brands in a recession and, more fundamentally, our ability to connect to a part of America," says Adams.
Read the rest here.