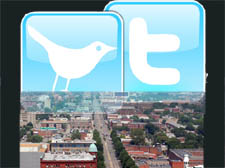 Sometimes you doubt your instincts.
Despite your gut feeling, you keep bumping into people who have seen the light. They seem normal. They dress well. And they can be very persuasive.
Your formerly well-grounded assumptions about the nature of things and business fundamentals seem less secure.
It's the reason bubbles form. You buy a condo in Florida because everyone you know is flipping condos in Florida and making a killing. Or buying stock in Pets.com. There are associated urban legends. Someone knows someone who is making a ton of money or sales on Facebook.
It's also the reason people follow cults.
Then the bubble pops and you feel like a damn fool for not sticking to your guns. You knew it was all bogus. Why would adults – some with advanced degrees and thriving businesses – be using the same gossiping technology as high schoolers? Aren't they busy – you know – working?
I never wanted to try Twitter. I wasn't tempted. Then I spoke on a panel about social media at the nascent Social Media Club, and I was the lone non-Twitterer who railed against the microblogging site.
People in the audience booed. I was berated on blogs. Now I know how Jose Canseco feels.
But I am open to new ideas, so I tried it for a few months. I am in the business of knowing what's happening, so I should be a good case study of Twitter's supposed power. And as a small-business owner, I am willing to do pretty much anything I have to to make the business thrive – even more so now that I have four employees who rely on me. That is, I capitulated.
I followed about 50 people and checked their updates at least once a day. I had about 200 people following me – but very few were our target readers. I tried to post three or four updates a week. Most were related to stories we were writing. I couldn't bring myself to post inane details.
"My dog just burped. He's so cute."
My study is complete, and it's just as I thought: a waste of time and completely useless for business unless you want to reach lots of marketing people. I firmly believe that most business professionals who spend time on Twitter shouldn't fool themselves. It's playtime, no different from monkeying around on Facebook or checking ESPN or TMZ.
My goal was to find potential news tips and drive readers to our site.  In my three-month trial, I did not find one helpful piece of information that I could use for a news story or even something that made me smile. Not ONE.  Facebook and Google are far more effective for driving readers, and I'm not convinced too many of our target readers are on Twitter.
The haters are already tweeting that I don't get "It."
To them I say beware of anybody who cannot describe something and must use a vague pronoun reference. I would also point out that Twitter seems dominated by people in marketing and advertising, and they are usually trying to pitch their services. So at some point it becomes marketers marketing to marketers.
I would also refer them to the very panel at which I was booed. While on a panel about Twitter, one of my fellow panelists was tweeting.
Let me repeat that: Tweeting while on a panel discussing Twitter. It makes your head spin.
Here's another problem with Twitter. Not everyone is clever. There is one fellow I "followed" who is witty and has a talent for spitting out whimsical bits of humor.  He's really the only person I found who could pull it off.
So from now on, I say be proud of your disdain for Twitter. Brag about it at networking events. When the bubble pops, it'll feel great to tell people you never believed the hype.
Then again, I said the same thing about Facebook.

Aaron Kremer is the BizSense editor. You may not follow him on Twitter, and please do not send him requests to be LinkedIn or recommending he join Facebook.