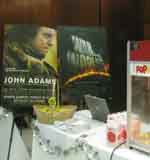 It might be a Hollywood ending after all.
The Virginia film industry, along with the state's film office, has been lobbying the General Assembly for years to increase the incentives available to production companies.
This year, their wish might finally come true.
Two bills have been introduced in the General Assembly that would make $10 million in tax credits available to production companies that film in the state. Gov. Bob McDonnell has also proposed $2 million in funding for the Motion Picture Opportunity Fund, which is used to lure potential productions to the state.
At a lobbying event at the General Assembly building yesterday, the state film office and members of the Virginia Production Alliance presented their case to lawmakers.
"This year, Governor McDonnell has come out in support of tourism and film," said Mary Nelson, communications manager for the Virginia Film Office. "He is all for jobs, revenue and economic development for the state."
Nelson said McDonnell's support is a huge boost for the industry. McDonnell mentioned the need for more incentives for film throughout his campaign and in his recent State of the Commonwealth speech:
"This year the movie 'Secretariat' will hit theaters," McDonnell said in his address last week. "A movie about a horse from Virginia. With a director from Virginia. Filmed in Kentucky and Louisiana. Not landing that production here meant an estimated loss of $30 million in economic impact. That is a failure."
Nelson said the film office was happily surprised when McDonnell started bringing up the issue in campaign speeches.
The state film industry has languished in recent years as other states created more competitive packages. After the state won over the production of HBO mini-series "John Adams" with a $1.5 million grant, Virginia's motion picture fund was for the most part drained. Since then a lack of funding has sent production companies to other states.
"The phones have stopped ringing," said Becky Beckstoffer, marketing manager for the state film office. Beckstoffer said that the studios know the state doesn't have any money to offer them.
Virginia is in last place for funding among the 43 states that have film incentive programs. Beckstoffer presented a list of 12 major productions since 2006 that had expressed interest in locating in Virginia but located elsewhere, many of which she said likely would have come here if the funding was available. The projects represent $200 million in expenditures that could have been spent in the state.
In 2007, when "John Adams" was filmed, the industry's total impact on the state was $614 million, according to the film office. In 2008, the industry's impact was $377 million, a 43 percent decline.
And there is much more at stake. The office is in talks with 12 upcoming productions that are either set in Virginia or considering filming in the state.
The film's combined expenditures total $214 million with an estimated economic impact of $385 million. That includes Steven Spielberg's "Lincoln," with a budget of $50 million, "1776," which is based on the popular book by David McCullough and produced by the same company behind "John Adams," with a budget of $30 million, and "Lafayette," about the life story of Marquis de Lafayette, with a budget of $35 million.
The companion bills offered in the House and Senate could secure many of those projects.
Senate Bill 257 and House Bill 861, introduced by Sen. Louise Lucas (D-Portsmouth) and Del. Ben Cline (R-Amherst), would allow productions with qualifying expenses of more than  $250,000 to receive a tax credit of 15 percent, or up to 20 percent if production takes place in an economically distressed area.
The bills create an additional tax credit of 10 percent of the total payroll of Virginia residents employed by the production, and if the total payroll is over $1 million, the credit increases to 20 percent.
The maximum amount of credits available over a two-year period is $10 million.
Bud Oakey, CEO of Advantus Strategies and lobbyist for the Virginia Production Association, said the bills would help put Virginia back on par with other states.
"The incentives you put up to reduce production costs will cause you to be more competitive," said Oakey.
Last year, Oakey successfully lobbied for the digital media bill, which adds a nominal tax to digital movies and games rented at hotels to fund the state's motion picture fund.
Oakey said the tax will raise up to $300,000 in the upcoming year.
"The first six months, the number was in the $150,000 range. It helps, but it is not enough to attract big productions," said Oakey. "Other states are eating our lunch. They are putting investing tens and twenties of millions in attracting film productions even in a down economy."
Oakey said that without more funding the state will lose more than films.
"The end result is we are going to lose jobs. We already are losing jobs. People cannot afford to leave their family for six months to go some place else to work," Oakey said. "We need to stabilize those jobs, that is what this legislation will do."

Al Harris covers the business of film for BizSense. Please send news tips to [email protected]