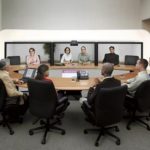 In an effort to save on travel expenses in a down economy, a Richmond-based financial company is trading in their boarding passes for the board room.
Genworth Financial, a Fortune 500 company, has used recent advances in videoconferencing to replace the costs of domestic and overseas air travel.
Perry Lombard, a company manager for Genworth, was put in charge of researching how much the company could save by using videoconferencing for meetings in lieu of travel. After investing $500,000 in the switch, the company saves $1 million in travel expenses annually and expects an additional 10 to 15 percent savings this year, according to NPR.
Lombard credits improvements in technology with the ease of the switch.
From NPR :
In the past, Lombard says, Genworth had used some videoconferencing, but it was difficult to use and the quality not very good. "Now, it's so good and so simple that [employees] don't even realize that they are using technology in their meeting. That's really what we're trying to accomplish," he says.
These advances allow meetings to be recorded and viewed later, which has changed the way Genworth trains its employees, said Lombard.