Todd Newton has a few photos of his family up in his office. There is a tractor in one of the recent photos, because for the past 18 months Newton worked on a family farm in Alabama, growing soybeans.
Now the North Carolina native is back in a suit and tie in the corner office of Anderson Strudwick. His job is to help turn around one of the last remaining independent financial services firm in Richmond, which has a wealth management division and an investment banking division.
Newton was formerly president and chief executive at Sterne Agee in Birmingham.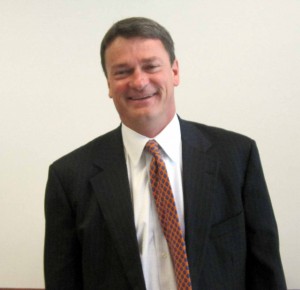 He has been at Anderson Strudwick about a month and is still putting together a plan, but his goals are clear: expand the size and scope of the firm, perhaps doubling its business within a few years.
BizSense chatted with Newton, 48, last week.
Below is an edited transcript.

Richmond BizSense: Why take the job at Anderson Strudwick?
Todd Newton: I want to make a change in the mix [of business] that better reflects the sea of change from the market disruption. There is another huge transition going on, too, with baby boomers moving into retirement. That's a terrific inter-generational transfer of wealth.
RBS: Big investment firms are getting tarred and feathered, as are the big banks. What are you doing as a local firm to play that to your advantage?
TN: We have 55 financial consultants, and they are much more reflective of the stockbroker mentality, representing their clients' needs. They do not abdicate securities selections [like some of the big firms].
RBS: Are you guys going to be hiring?
TN: We are currently hiring some MBAs – interviewing five right now. The average age of our financial consultants is 51 or 52. I want to bring that down. We also want to expand our search for qualified women and minorities.
RBS: I'd imagine the directors of the firm want to see some growth.
TN: I think we can double in the next two or three years. We recently, in the last few weeks, looked at an event that would have grown our size eight-fold. It was an asset purchase. I can't really tell you any more about that.
RBS: Before you arrived, a deal to sell the firm to Tennessee-based Wunderlich Securities fell through. That happened twice. How is morale?
TN: Hopefully improving. I first and foremost wanted to recruit the people we already have here and make sure they are happy.
RBS: When I was reporting about the Wunderlich deal back in May 2009, several sources said the firm was losing money. Is Anderson Strudwick profitable?
TN: We were profitable in 2009, but this year it remains to be seen. We have muted GDP growth.
RBS: You talked about expanding, but that means you need to get in front of more prospective clients. How can you do that?
TN: We need to benefit from our standalone presence in Richmond. We want to increase the visibility of the firm. Anderson Strudwick has been in the community 62 years, and we need to make sure people know that.
Aaron Kremer is the BizSense editor. Please send news tips to [email protected]