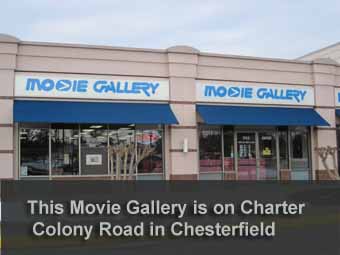 Movie Gallery has filed for bankruptcy again.
The nation's second-largest video chain submitted a Chapter 11 petition to the bankruptcy court in Richmond yesterday. Movie Gallery, which also owns Hollywood Video, has headquarters in Oregon.
Movie Gallery owns 16 locations in the Richmond area, and seven stores are having closing sales, according to its website.
In the new filing, the company reported between $10 million and $50 million in assets and $500 million to $1 billion in liabilities.
This is the second time the company has filed for bankruptcy. The first was in 2007 and was also filed with the U.S. Bankruptcy Court in Richmond.
More from Business Week:
During the previous reorganization process, the company cut 1,000 stores, mostly through lease rejection and saving more than $130 million in rent. The chain also amended agreements with major film studios and cut its debt, giving the company more liquidity when it previously exited bankruptcy.
Under the confirmed plan, $325 million of 11 percent senior notes, including about $174 million held by Sopris Capital Advisors LLC, and $72 million in second-lien debt was converted into equity in the reorganized company.
Unsecured creditors of Movie Gallery were to receive 6 percent of their claims, while unsecured creditors and holders of senior subordinated notes of the company's Hollywood Entertainment unit were to get a 12.5 percent recovery.
Movie Gallery closed several locations in Richmond during its last bankruptcy. Several of those locations have cropped up as something new. The Hollywood Video in Shockoe Bottom is now a Subway, and the Movie Gallery near VCU will soon open as a Japanese restaurant. Another Movie Gallery in Southside is now a mixed-martial arts studio.
Blockbuster Video announced it was closing stores this year as well, but only one in Richmond has been cut.
Traditional video stores are facing increased competition from other companies that deliver DVDs by mail, stream movies online or rent from a kiosk. Read more about that here.
Below is a list of Movie Gallery and Hollywood Video locations that are having closing sales:
Movie Gallery
4711 West Broad St.
Hollywood Video
4000 Glenside Drive
Hollywood Video
10220 Staples Mill Road
Movie Gallery
1108 Courthouse Road
Hollywood Video
7260 Mechanicsville Turnpike
Hollywood Video
2130 John Rolfe Parkway
Movie Gallery
13534 Waterford Place