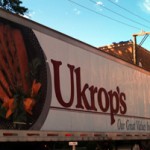 Local ownership of Ukrop's Super Markets came to an end Monday as Dutch grocery operator Ahold closed a deal to purchase the 25 stores for $140 million.
The Ahold division Giant-Carlisle took possession of the stores. They also retained the stores 3,600 associates.
The stores will began operating under the name Martin's later this spring. The stores will also open on Sundays and sell beer and wine—upending two longstanding traditions of Ukrop's stores.
The Ukrop's family will continue to supply prepared foods and bakery products from its central kitchen.
Other things aren't changing.
Rick Herring, president of Giant-Carlisle, said in a statement store associates will still be available to carry bags to customers' cars.
While Giant-Carlisle rehired the store associates, Ukrop's corporate operations center in Henrico was not part of the deal.
Tracy Pawelski, spokeswoman for Martin's, said some of Ukrop's corporate employees have been hired on a temporary basis and will be considered for permanent employment. Approximately 140 employees worked at the operations center.