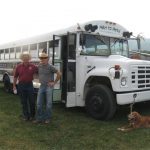 Right now local and seasonal adorn restaurant menus like salt and pepper. Cooks everywhere are buying into the fact that fresh food tastes better and is better for you. For the most consumers, however, there is another reality: farmers don't have dollar menus.
That's where Mark Lilly comes in. Behind the wheel of a school bus older than most college seniors, Lilly attempts to make fresh produce as accessible as a quarter-pounder. His company, Farm to Family, sources organic produce from local farms and provides them to customers in what is essentially a traveling farmer's market.
Lilly was recently featured in an article by the BBC:
"As Americans we don't have a culture of food really. It's fast food. We subcontract everything out," Mr Lilly says."Folks here are addicted to bad food and first you've got to wean them off it before you can sell them the good stuff," he says.
The bus seats have all been replaced by shelves of wicker baskets filled with seasonal produce, eggs, and even Virginia maple syrup. Farm to Family even accepts food stamps, as Lilly targets low income neighborhoods where fast food chains are generally the only option.
The bus' location is announced through Twitter and Facebook.