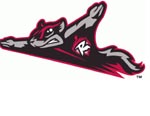 It wasn't opening day, but if Thursday's coming out party for the Flying Squirrels' team mascot was any indication then Richmonders can't wait for the first pitch.
A near capacity crowd at The Byrd Theater applauded and cheered during a 40-minute performance that introduced Nutzy the mascot and had local sports broadcasters model home and away uniforms for the new AA baseball team.
The Squirrels also announced that HCA Health Systems will be a team partner. A group of about two dozen doctors and other HCA employees, clad in scarlet and black fleeces, cheered at the announcement.
The show began with dozens of Bon Air Elementary School first graders singing "Take Me Out to the Ballgame," with the words slightly altered to show that Richmond was happy to be getting a team back. The program ended with local recording artist Susan Greenbaum singing the "Flight Song," which she wrote to be the Squirrels' theme song.
She got the audience to chime in on the chorus amid lines of "Hey, boys and girls, come and greet the Flying Squirrels" and "Everyone go nuts for the team."
The crowd did go nuts, and it was very much a kid friendly show. Nutzy, in a muscular black suit with red cape, ran out to meet the crowd through a cloud of colored confetti.
In addition to the Bon Air crew, several elementary school students from across the area were introduced as winners of an art competition on why baseball is fun. The audience turned their heads to watch each of the students come down the aisle to loud applause as their winning drawing was shown on the movie screen. Enlarged copies of the winning artwork will be on permanent display at The Diamond.
Scarlet and black are the colors for the team. Home, away and practice uniforms in various combinations of those colors were modeled by television sports reporters Lane Cassadonte, Channel 6, and Chip Tarkenton, Channel 8, and talk radio personalities Wes McElroy, 910 am, and Greg Burton, 950 am.
The Squirrels are a farm club of the San Francisco Giants. They previously played in Connecticut as the Generals. Richmond has not had professional baseball since the AAA Braves left at the end of the 2008 season.
The Squirrels season begins April 8, and the home opener is April 15.
"This was tremendous," said Todd "Parney" Parnell, Squirrels vice president and chief operating officer. "This was a great warmup for the season."